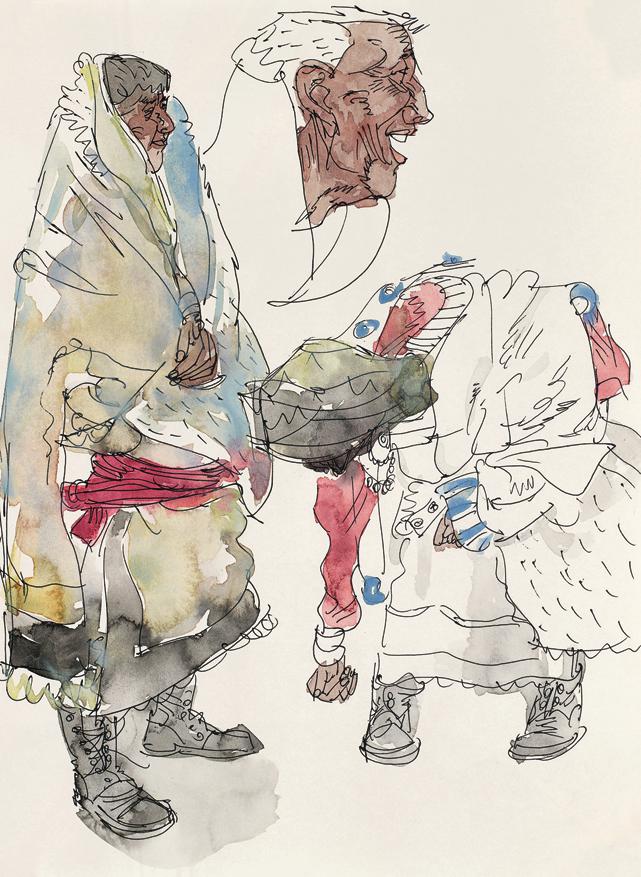 Zhang's exhibition, Soul Whispers, at the China National Academy of Painting ends on Sunday. Dozens of ink-and-water paintings and sketches made over the past three years are on display. It is part of the Not Alone on the Righteous Path series of exhibitions the academy has staged to highlight its resident artists.
Zhang's works show solid figurative technique. He is influenced by the style of German expressionism, but still retains the touch of refinement and aloofness, considered a hallmark in classical literati paintings from ancient China.
Zhang's focus has been on figure paintings. His works reflect thoughts on relations between people and cities, and between humankind and nature. He has been reinventing the way he works with ink to show the discontent, helplessness, struggles and hopes of his subjects.
One of his most famous paintings, The Journey of Divinity, was made in 1998. It depicts a group of devout Tibetans on pilgrimage and delivers an imposing feeling and a sense of collective spirituality.
At that time, Zhang mainly portrayed the day-to-day life of people in the countryside. In recent years, he has turned to depicting city dwellers and addresses overconsumption and spiritual emptiness among urbanites.
Works on display at Soul Whispers show his ink-and-water style of painting as a medium to discuss the mentality of metropolitan people.