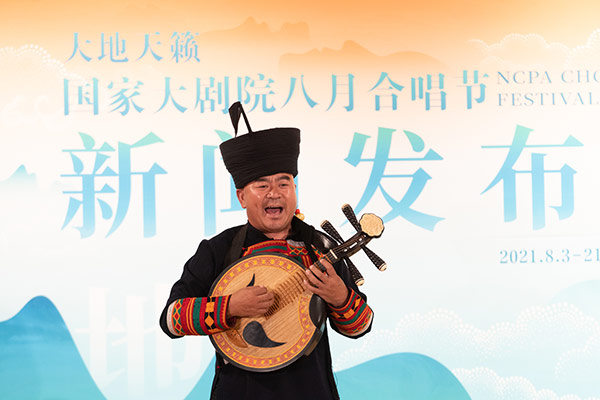 The annual China NCPA August Chorus Festival is set to take place from August 3 to 21 at the National Center for the Performing Arts in Beijing.
The highlight of this year's festival are choruses from over 10 Chinese ethnic groups, such as the Yi, Dong, Lahu and Zhuang.
Over the course of the festival, 23 choruses were scheduled to deliver 13 shows at the NCPA, including performances by 31 singers who are inheritors of intangible cultural heritage. However, due to a recent spike in cases of the coronavirus pandemic, as a precautionary measure , three shows have since been canceled.
"Being a school choir has been a long tradition for Chinese people. We have choirs in primary schools, high school, colleges and even in kindergartens. It's a popular art form enjoyed by people of all ages, including senior citizens, for whom singing in choruses is a major form of entertainment after retirement," says Wang Luli, deputy director of the programming department of the NCPA. "Chinese ethnic groups are known for their versatility in singing and dancing. We have many art forms from Chinese ethnic groups that are listed as national intangible cultural heritage items. Among those valuable art forms, choral singing is well-known."
Wang adds that the festival, which started in 2009, has built a large fan base among Chinese music lovers, especially fans of choral singing.
This year, the festival was opened by the China National Symphony Orchestra Chorus, which performed under the baton of conductor Wang Linlin, with a repertoire including Song of Guerrillas by Chinese songwriter He Luting and On the Hopeful Field by songwriters Chen Xiaoguang and Shi Guangnan.
On August 18 and 19, shows by five ethnic group choruses from Southwest China will perform some of the oldest songs from their respective cultures. Highlights will include a chorus, from Poya village in Yunnan province, who will perform the Poya songbook, an ancient collection of folk songs written in hieroglyphic symbols on a piece of hand-woven cloth, and originated in the village. In 2011, the Poya songbook was added to the list of national intangible cultural heritage.