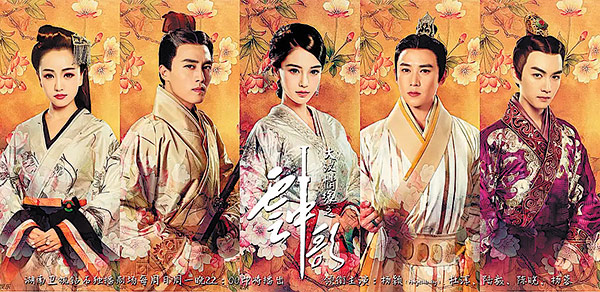 Harriet Ajulu was, on July 25, glued to her television screen as she closely followed her favorite Chinese drama.
The 26-year-old nurse was watching Love Yunge from the Desert series that airs on the Chinese pay television station, StarTimes.
The program that has captivated audiences in Kenya is set during the Western Han Dynasty (206 BC-AD 24) and is a love triangle that involves a beautiful young woman and an emperor.
The long-running drama has been translated into English, making it easy for local audiences to connect with the Chinese drama.
Ajulu says she watches the show without fail every time it is broadcast because of the interesting storylines.
"I have discovered that there is a lot in common between Chinese and African cultures in the way the people react to daily life struggles and situations," says Ajulu.
She says through the drama, her knowledge about Chinese culture has been dramatically expanded.
Ajulu is among the growing number of Kenyans who have become ardent fans of Chinese television and film dramas because their content resonates with locals.
Paul Lekolol says he is also a fan of television shows produced in China.
Lekolol says he likes the kung fu channel which is dedicated to programming on martial arts and other forms of Chinese culture. The 42-year-old says his all-time favorite Chinese movie is Detective Dee and the Mystery of the Phantom Flame.
The career civil servant says he became an ardent admirer of kung fu movies because he is intrigued by the elaborate athletic moves that make up the Chinese martial arts. He says during his childhood days, he used to watch kung fu movies whenever they were shown by mobile outdoor cinemas.
"Now I am able to watch as many kung fu action movies as I want," says Lekolol.
He observes that Chinese dramas remain appealing to Kenyans because they tell universal stories that cross cultural boundaries.
Hellen Ongera says she prefers to watch Chinese drama because it has more family-friendly content, compared with Western productions that have dominated Kenyan markets for decades. The mother of three says she always allows her school-going children to watch Chinese dramas as they take a break from their vigorous studies.
Christine Nyambura, a teacher, says she always looks forward to watching Chinese drama. The 30-year-old began watching films produced in China two years ago and has grown to appreciate the rich cultural heritage of the Asian nation.
Chinese dramas "tackle social issues that all human beings can relate to regardless of their cultural background", says Nyambura.
According to the StarTimes, it broadcasts about 10,000 hours of Chinese dramas for Kenyans every year. And kung fu movies have led in the ratings so far.