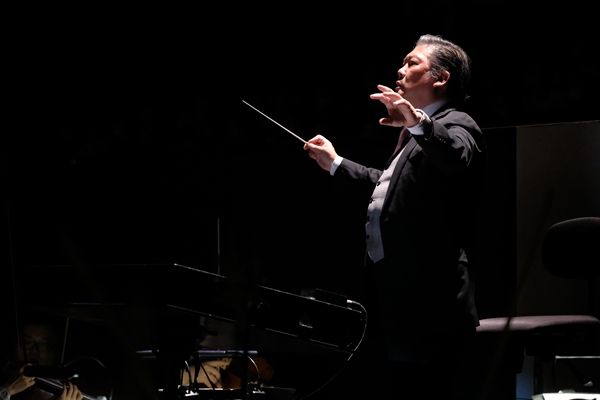 As a young student, Zhang saw a filmed performance of La Traviata starring Placido Domingo, the famous Spanish opera singer.
"It was La Traviata that made me fall in love with opera and made me want to pursue the art form," says Zhang, who was the first Chinese-born singer to play a lead role with the New York Metropolitan Opera in Italian composer Giacomo Puccini's Madame Butterfly.
She has been playing in the NCPA's La Traviata since 2010.
Rehearsals started on March 25.Conductor Yu reveals that, as well as the soloists, he was impressed by the performance of the China NCPA Chorus.
"They are an excellent chorus and sing with precision," Yu notes.
Tenor Shi says: "Due to the coronavirus pandemic, it's been over a year and a half since I performed in an opera production, which has been very depressing for me.
"La Traviata is the second opera I learned as a young singer and it means a lot to me when I get to return to the stage and play Alfredo."
As a young student, Shi studied with Liao, who now is the president of the Shanghai Conservatory of Music.
Shi adds that he feels honored to perform onstage with his teacher.
Liao, who, like Zhang, has performed in the NCPA's productions of the opera since 2010.
"We have seen the production by the NCPA change over the years. For China's opera lovers, La Traviata has become a classic production now," says Liao.
"Every time we perform it, we feel fresh and different, even though we know the roles very well. The people we work with inspire us and make the production feel new."