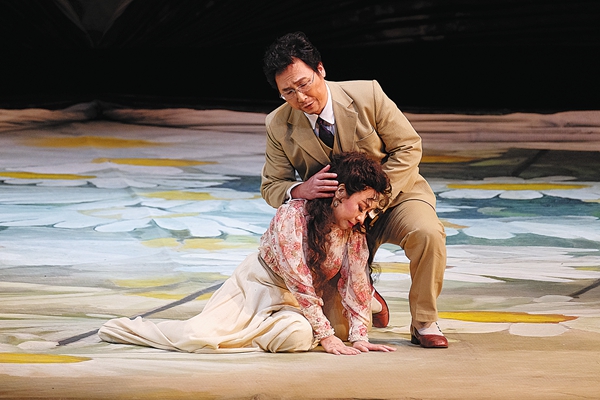 "Due to the coronavirus pandemic, the NCPA has not produced operas for a long time. We want to bring audiences back to the theaters with the classic La Traviata," Zhao says, adding that it is one of the most frequently performed operas produced by the NCPA.
On March 9, when the tickets for the opera went on sale, 900 were sold within two hours. Four days before the opera commenced its run, the NCPA had sold over 8,000 tickets.
Verdi's La Traviata premiered in Venice in 1853 and is one of the composer's most popular operas. Inspired by French author Alexandre Dumas' 1848 romantic novel, La Dame aux Camelias, it tells the story of a tragic romance between Violetta Valery, a courtesan in Paris, and Alfredo Germont, a young bourgeois, which ends with Violetta's death.
The cast for the latest NCPA's production sees the Shanghai Symphony Orchestra-the country's oldest-perform under the baton of conductor Yu Long.
Yu led the China Philharmonic Orchestra performance of the NCPA's fifth version of La Traviata in 2016.
Soprano Zhang plays the leading role of Violetta, tenor Shi Yijie plays the role of Alfredo and baritone Liao plays the role of Giorgio Germont-all of the three leading performers have played in the NCPA's previous productions of La Traviata.
The China NCPA Chorus and more NCPA resident opera singers will join in the performances.
Zhang, who was born in Wuhan, Central China's Hubei province, received vocal training at the Wuhan Conservatory of Music and graduated from the opera department of the Central Conservatory of Music in Beijing in 1989.