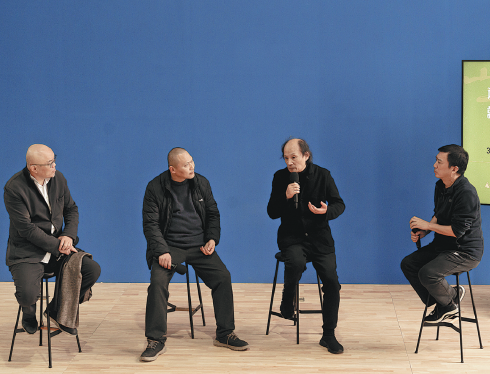 It seems like a fleeting moment of beauty. Twenty years ago, artist Leng Bingchuan featured in a copy of a magazine called Wei Mei (meaning "only beauty"). The magazine, published by Shandong Pictorial Publishing House, focused on aesthetics and highlighted Leng's works. And that's where the fleeting part comes in-the magazine ceased publication after just one issue.
Leng remembers that, in a letter discussing the magazine, the publisher's editor-in-chief Wang Jiaming tried to answer the question: "What is beauty?" His answer stated that "to talk about beauty is to talk about life itself".
In early 2020, under the lingering shadow of the COVID-19 pandemic, Wang met Leng and Liu Guanghan, editor-in-chief of Guangxi Normal University Press. The three decided to restart Wei Mei, or Pulchra in Latin, in the form of a magazine-book-or "mook"-that carries works that are true to their creator's heart, hoping that "in our transient life, people might stop shortly for 'beauty'", Leng, chief editor of the magazine, said at the launch of Wei Mei in Nantong, Jiangsu province, on March 27.
"Apart from ideals, we wanted to make something comforting during that special period of time," he said in an exclusive interview with China Daily.
The launch issue consists of two volumes-a white-covered left volume and an olive green-covered right volume. Both have 250 pages bound by threads of corresponding colors.
They carry the works of 72 Chinese novelists, poets, artists and scientists. In their paintings, photographs, poems, essays, short stories and dialogue, they talk about their views on aesthetics.
In total, across both volumes, the publication contains more than 500 pictures, and nearly 60 percent are high-definition, presenting personal exhibitions on paper of works by more than 20 artists.
To publish their works, Leng talked to the 72 contributors, one by one, starting in June 2020, reminding them that he wanted articles true to their hearts, which was "the only requirement". To his surprise, by the end of 2020, the whole thing had been completed.
The mook is a combination of a magazine's style in terms of content, but bound and laid out like a book. Seven types of paper have been used to add to its tactility.