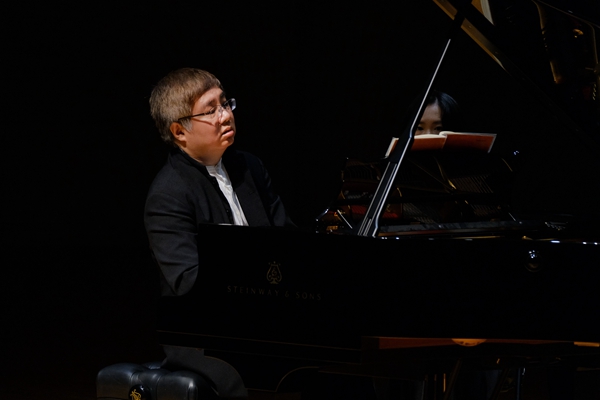 Since 2009, pianist Sheng Yuan has been holding concerts every March to pay tribute to one of his favorite composers, Johann Sebastian Bach.
On March 12 at the Forbidden City Concert Hall in Beijing, he continued this tradition by playing four sets of Bach's English Suites on piano. As the earliest of Bach's keyboard suite sets, the English Suites contain six sets and Sheng performed the first, second, fourth and the sixth during the concert.
"I am working on a project to record all of Bach's works for the keyboard, so I chose to play pieces that I haven't played yet," says Sheng, adding that there are different styles featured in Bach's English Suites.
Born in a musical family, Sheng began playing the piano at the age of 5 and received training from the Central Conservatory of Music in Beijing. He studied under Solomon Mikowsky at the Manhattan School of Music in New York City, where he completed his bachelor's and master's degrees in music with a scholarship. His interest in Bach's music inspired him to study intensively with pianist and harpsichordist Rosalyn Tureck, who was a well-known expert and interpreter of Bach's music.
"The Chinese audience is familiar with Bach's music since the composer's works are frequently performed. Bach's music is also frequently used as teaching material in China. Though these works of composition are from centuries ago, they still inspire generations of people," Sheng says.
Sheng's March 12 concert kicked off a series of concerts and public events to celebrate Bach's birthday. There will be a total of six concerts held at the Forbidden City Concert Hall through March 28.
Following Sheng's concert on March 12, there were two concerts by violinist Huang Bin where she played Bach's complete six sonatas and partitas for solo violin.
"Bach's six solo violin pieces set the standard for violinists even up to the present day. They are an essential part of the violin repertoire, which are frequently played and recorded today. The music pieces are made in the usual baroque style and Bach added new elements to bring diversity,"Huang says.
At the age of 4, Huang began her violin studies and won the Paganini Competition in Italy in 1994 and the ARD International Music Competition in Germany in 1999.
To pay tribute to Bach's achievements as an organist and his devotion to keyboard music, a concert titled Bach: A Life Journey on Pipe Organ will be staged by pipe and electronic organist Shen Yuan on March 19. Shen will perform Bach's music from three periods: the Weimar years, 1703-17; Cothen years, 1717-23; and Leipzig years, 1723-50.
Ending off the series of Bach concerts on March 28 is pianist Zhang Shiyue, who will play six of Bach's compositions adapted by six musicians, including Ave Maria based on a prelude by Bach and written by French composer Charles Gounod in 1859, Toccata and Fugue in D minor, BWV 565, a two-part musical composition for the organ by Bach and adapted by Polish pianist and composer Carl Tausig, and Bach's Chaconne, a solo instrumental piece that forms the fifth and final movement of the Partita No 2 in D minor, BWV 1004, which was adapted by Italian composer Ferruccio Busoni.
Zhang will also give an improvisational performance of Bach's music during the concert.
He says the theme of the concert is to display the limitless creativity of Bach's music through various adaptations.