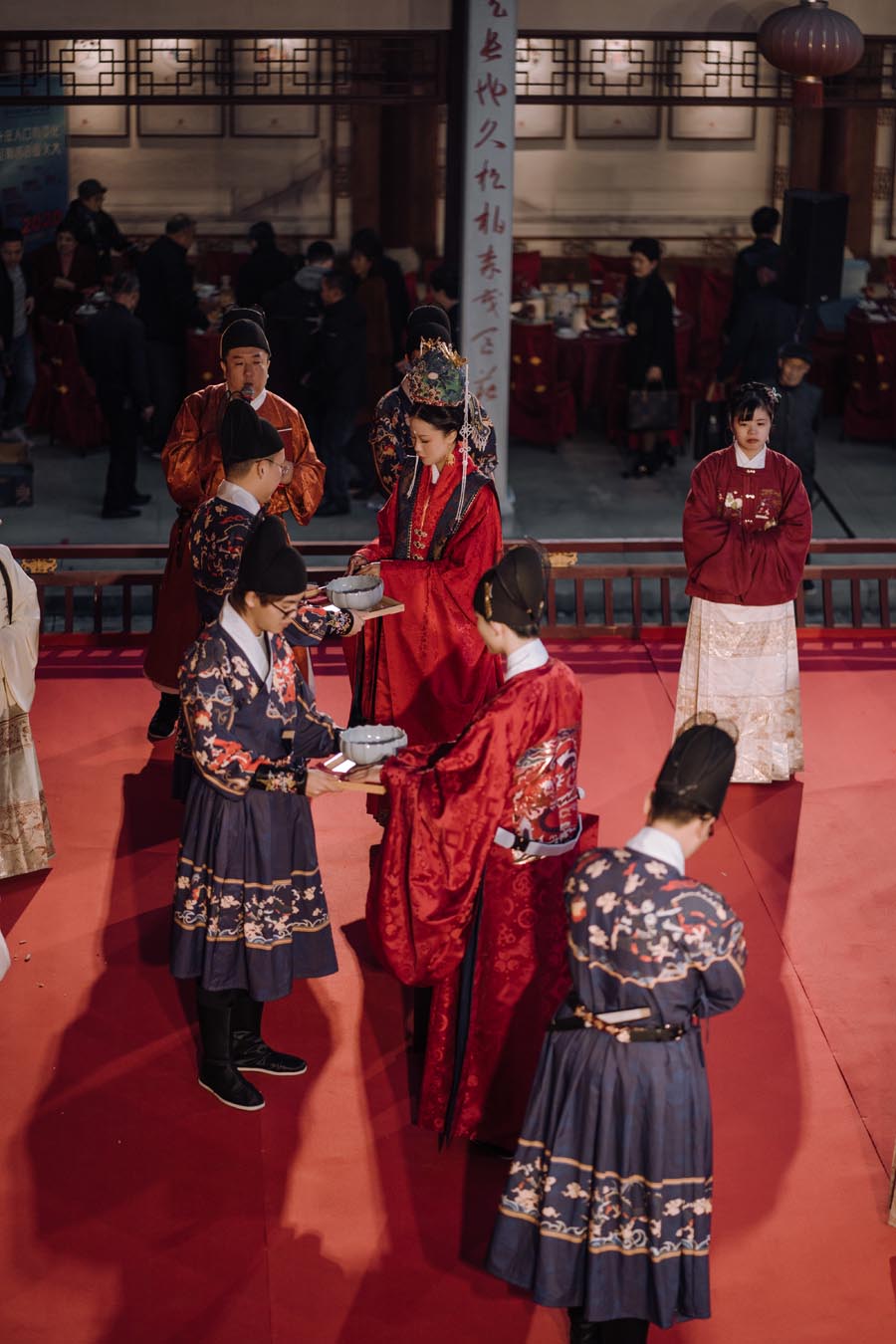 The original coronet was excavated from a Ming tomb and is on display at the National Museum of China in Beijing.
In addition to Dai, eight bridesmaids and groomsmen were clothed in Dai's hanfu creations.
Almost as important as the costumes and rituals to the overall look and feel of the wedding were the props, furnishings and other decorations, Dai says.
"Essentially for this kind of thing you can find all the props you need by shopping online. The palace lantern I used is the same as the one I saw while visiting Huiyingaoli Temple in Hangzhou," she says.
"I also like lamps and candles …which explains all those red lanterns you saw at the wedding."
The lanterns and the rest can now be seen on the video-sharing website Bilibili, on which Dai goes by the username Jingzhishisui.
The video has been viewed 2.17 million times since she posted it online in December. Some viewers comment that it's the most beautiful Chinese-style wedding they have ever seen.
Dai and her husband, Chu Haiting, met while working together. He is a cameraman who occasionally helps her at a film studio.
He also shares her passion for Han clothing, so perhaps for him that two-year wait for their big day did not seem too long.
"It's very meaningful and interesting to learn about traditional clothing," says Chu, 26.
"The wedding plan was my wife's idea and I supported it."
Dai says she hopes young people will treasure traditional culture and feel its charm through everyday life.
The matrimonial steps taken by Dai Zhenzhen and Chu Haiting on their special day
・ The bride is escorted from her home to that of the groom.
・ The bride's face is kept from view from the groom by handheld fans.
・ The couple burn incense sticks together to pay respects to their ancestors.
・ The groom gives the bride a pair of wooden geese, a sign of eternal love.
・ The couple wash their hands.
・ The couple drink bitter liquor from two halves of a calabash, signaling a willingness to face hard times together.
・ Bridesmaids and the groomsmen throw dried longan and peanuts on the couple.
・ Strands of the couple's hair are tied together and put in a pouch.
・ The couple join hands.
・ The couple signal to the sky, and bow to the Earth and one another.