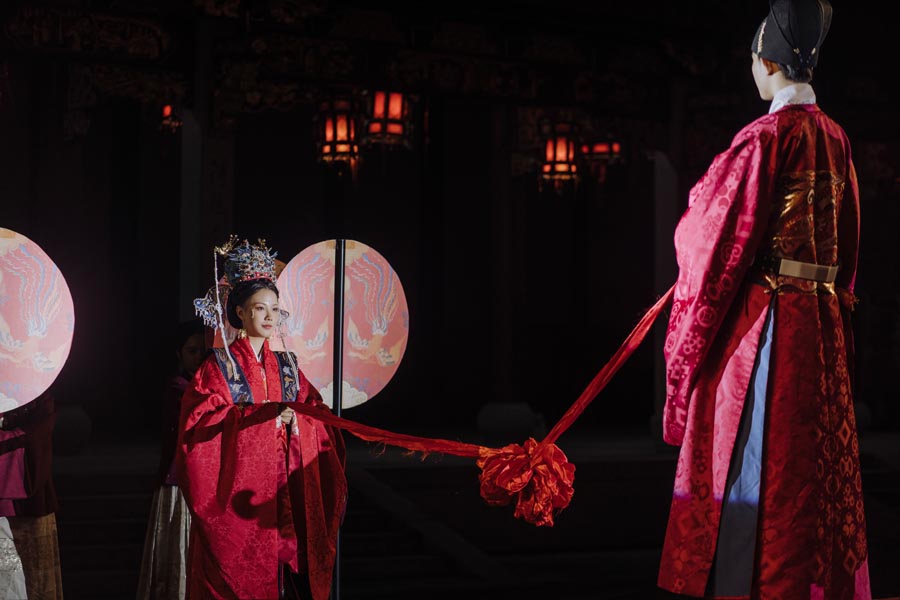 She enrolled in a seven-day intensive styling course in Hangzhou, Zhejiang, where she learned how to do makeup and braid hair.
Doing proper styling for Han clothing for one person can take up to two hours, she says.
However, there is more to this than knowing a bit about styles, and some knowledge of history helps.
She took up photography as a career and specialized in taking pictures of Han clothing. In 2019, Dai began to post videos online, explaining to the uninitiated Han Chinese clothing in all its beauty and intricacy.
"I chose to hold a Ming-style wedding because you can find a lot of books and records of such ceremonies, so I knew I was more likely to get things right," Dai says.
For over two years she pored over historical material and looked at the costumes used in different TV dramas as she prepared for her big day.
The books she studied included Daming Huidian (Code of the Great Ming Dynasty) and Yili Shihunli (The Book of Rites: Wedding Ceremonies), the latter being the earliest work in ancient China that recorded wedding protocols.
"In Chinese, the wedding ceremony is called hunli, and li refers to manners and rituals," Dai says.
"Traditional Chinese wedding rituals are performed at sunset, so my wedding began at 5:28 pm."