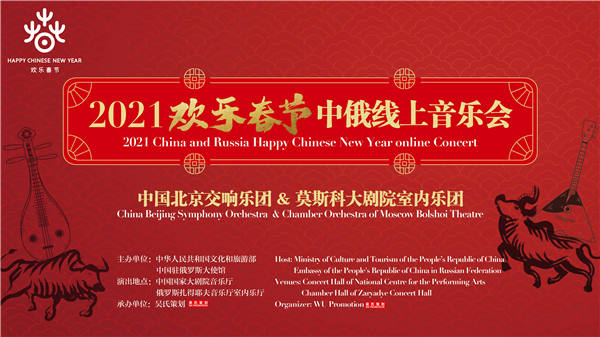 The 2021 China and Russia Happy Chinese New Year online concert will be livestreamed on Feb 10 at 7:00 pm (GMT+8), featuring the Bolshoi Theatre Chamber Orchestra and Beijing Symphony Orchestra, performing from the Chamber Hall of Zaryadye Concert Hall and the concert hall of the National Centre for the Performing Arts.
Repertories will include Chinese music, including Spring Festival Overture composed by Li Huanzhi, Wonderful Night composed by Liu Tianhua, Butterfly Lovers composed by He Zhanhao and Chen Gang as well as classic Western pieces, such as String Serenade No 13 "Eine Kleine Nachtmusik" in G Major by Mozart, Serenade for String Orchestra Op 48 by Pyotr Tchaikovsky and Moscow Nights by Vasily Solovyov-Sedoi.
Organized by Wu Promotion, one of China's first performing arts promoters and event organizers, the concert will be played online till March through major online platforms of the two countries.
Watch Live:
China Culture YouTube: https://youtu.be/uurXjdpw7sc
China Culture Facebook:
https://www.facebook.com/chinacultureorg/videos/2931254247110213/