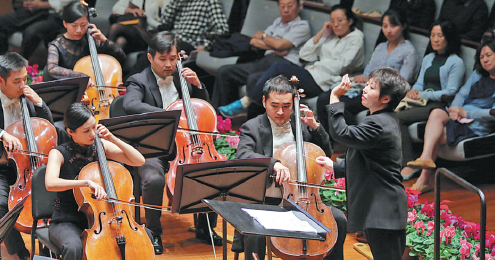 The New Jersey Symphony Orchestra has started a series of virtual concerts since Monday to welcome the Year of the Ox, which begins on Feb 12.
Over the past few days, audiences have enjoyed performances through videos streamed online, featuring such musicians as violinist Yang Ming and pianist Jade Lucia Nieczkowski performing Fisherman's Song by Moonlight, adapted from a Chinese music piece for the guzheng (Chinese zither), and classical guitarist Yang Xuefei performing White Snow in the Spring Sunlight, a classic piece of traditional Chinese music, which first appeared in a pipa (a four-stringed lute) score during the Qing Dynasty (1644-1911).
Under the baton of conductor Zhang Xian, the orchestra will present a virtual concert on Saturday.
The program includes the classic Chinese music pieces, Spring Festival Overture by composer Li Huanzhi (1919-2000), Singing and Smiling by composer Gu Jianfen, as well as Western classical favorites, such as Tchaikovsky's Andante Cantabile for cello and orchestra and Argentine composer Astor Piazzolla's Libertango.
The Peking University Alumni Chorus and Starry Arts Group Children's Chorus will join the concert.
"This is the third year that the NJSO is presenting a Chinese New Year program. I initiated this project after I became the music director there. It has been a favorite program for our audience," says Zhang.
"I hope that this year's virtual celebration fills our audiences with strength, joy and hope for better days in the year ahead."
Born in Liaoning province's Dandong, Zhang was exposed to music as a child. She started studying piano at Beijing's Central Conservatory of Music at age 11 and stayed at the conservatory until she moved to the United States in 1998 to complete her doctoral studies at the College-Conservatory of Music of the University of Cincinnati in Ohio.
Zhang received the first prize at the Maazel/Vilar Conductors' Competition in 2002.
She became US conductor Lorin Maazel's assistant at the New York Philharmonic the same year and then the philharmonic's assistant conductor in 2004.