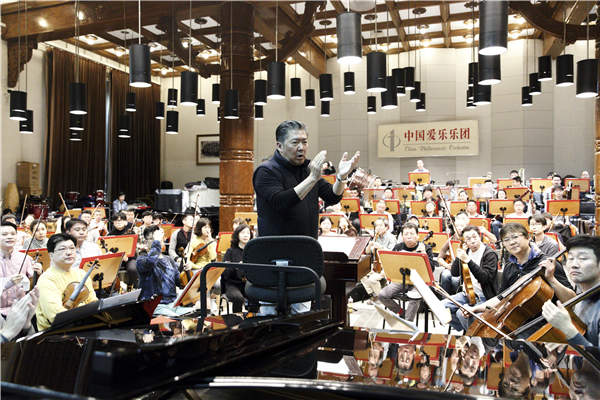 Conductor Yu Long (center) and musicians of the China Philharmonic Orchestra go through rehearsals earlier this year in Beijing. The orchestra will stage a New Year concert on Wednesday. [Photo by Jiang Dong/China Daily]
Orchestras to ring in new year with rousing renditions of classics and modern pieces, Chen Nan reports. 
Under the baton of conductor Yu Long, the China Philharmonic Orchestra will welcome the new year with a concert at Beijing's Poly Theater on Wednesday. They will perform along with musicians from two other Chinese symphony orchestras: the Shanghai Symphony Orchestra and the Guangzhou Symphony Orchestra.
On Oct 1, 2019, more than 1,000 musicians from 16 Chinese symphony orchestras, including the China Philharmonic Orchestra, the Shanghai Symphony Orchestra and the Guangzhou Symphony Orchestra, performed together in a concert marking the 70th anniversary of the founding of the People's Republic of China.
The upcoming concert will have the three symphony orchestras perform programs marking the 100th anniversary of the founding of the Communist Party of China in 2021.The concert will open with a classic Chinese song, titled Sing a Song for the Party, featuring soprano Gong Shuang. The song, first released in 1963 and written by Zhu Jian'er and Jiao Ping, has been adapted by Chinese composer Zou Ye. Another popular Chinese song, I Love You, China, which was released in 1979 and written by composer Zheng Qiufeng and lyricist Qu Cong, will close the concert featuring soprano Huang Ying.
"Every year we bring the audience a New Year concert and this year, we chose some classic Chinese songs to dedicate to our country," says conductor Yu, who was appointed as principal conductor of the China National Opera House in Beijing in 1992 and involved in the planning of the first Beijing New Year's Concert later that year. In 2000, Yu founded the China Philharmonic Orchestra and as the orchestra's artistic director, chief conductor, he led the orchestra to perform its first New Year concert on Dec 31, 2000. Since then, the New Year concert has become a tradition for the orchestra. The music channel of CCTV has live-broadcast the New Year concert by the orchestra every year since 2000.