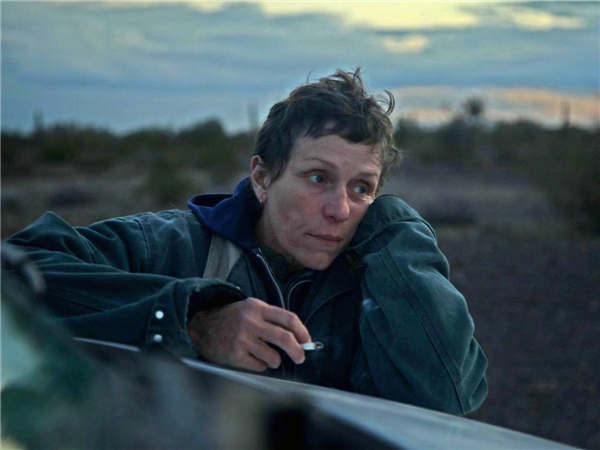 The film stars two-time Oscar winner McDormand. [Photo provided to China Daily]
In the US, Nomadland is piling up awards and nominations from coast to coast in recent days.
In Boston, it won the best picture and best director, best actress, best cinematography, and best editing from the Boston Online Film Critics Association on Dec 19 and also won best picture, best director, and best cinematography from the Boston Society of Film Critics on Dec 13.
After six nominations from the Florida Film Critics Circle, it took home on Dec 21 the best director and best actress nods, while sharing 2nd place for the best film and best adapted screenplay.
The film also took top honors at the 2020 Indiana Film Journalists Association awards, winning four prizes including best picture, best actress for Frances McDormand and best adapted screenplay and best director on Dec 21.
IndieWire Critics Poll also awarded it best film, best director and best cinematography last week.
Both the New York Film Critics Circle and the LA Film Critics Association gave Chloe Zhao their best director nods over the weekend. The film also received recognition as a runner-up for best picture and best cinematography by the LA Film Critics Association.
All in all, this is a banner year for the shy filmmaker, Chloe Zhao, with the best yet to come as the Golden Globes and Oscar seasons continue to unfold, many pundits claim.
Zhao has a unique vision which is serving her in good stead now.
"I was born and raised in China, Mandarin is my first language, and I definitely know America. I think that will be my strength, to try and bring the two worlds together," she once said.
Xinhua