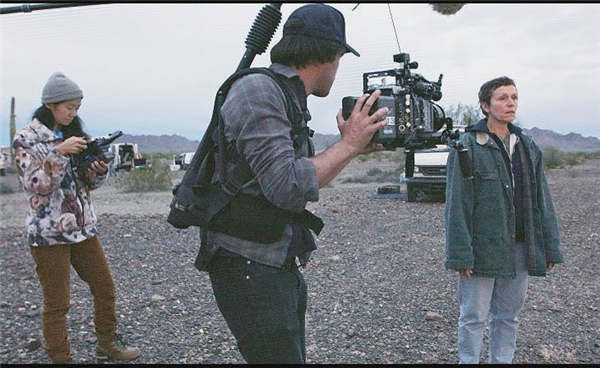 Chloe Zhao (left), director, Joshua Richards (center), director of photography, and actress Frances McDormand on the set of Nomadland. [Photo provided to China Daily]
The evocative feature film, Nomadland, the latest effort by insightful Chinese female director, Chloe Zhao, is sweeping the awards circuit in the United States, putting her on the fast track for Oscar contention.
Zhao's film from Disney's Searchlight Pictures snapped up five top honors on Dec 21 from the Chicago Film Critics Association, winning best picture, best director (Chloe Zhao), best actress (Frances McDormand), best adapted screenplay (Chloe Zhao), and best cinematography (Joshua Richards), continuing Zhao's hot streak and helping it build Oscar buzz.
It beat out other Oscar hopefuls, like Spike Lee's Da 5 Bloods, Steve McQueen's Lovers Rock, and Kelly Reichardt's First Cow, among others for best picture and best director.
Adapted by Zhao from Jessica Bruder's 2017 nonfiction book Nomadland: Surviving America in the Twenty-First Century, the film stars two-time Oscar winner Frances McDormand as an out-of-work woman who packs her van and sets off from her small town to travel around the vast landscape of the American West, exploring a life outside of conventional society as a modern-day nomad.
Zhao, also the director of upcoming Marvel blockbuster The Eternals, is racking up the honors far and wide, gathering momentum to put her and Nomadland hot on the Oscar contender trail.
It started off with a bang in September on the international scene when Zhao carried off the prestigious Golden Lion Award, the Venice International Film Festival's top honor-the first female director to win since Sofia Coppola in 2010.
The film also won the People's Choice award at the Toronto International Film Festival in 2020.