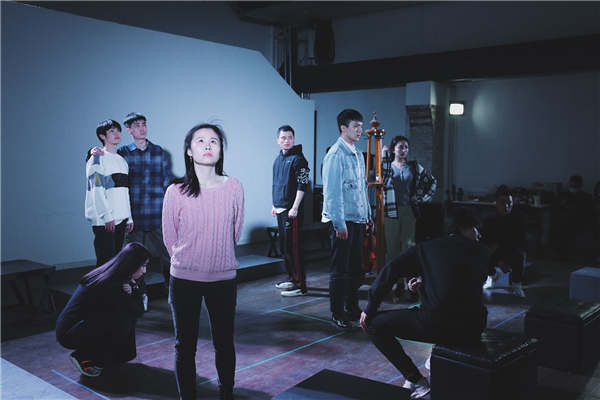 My Ideal Life, which will premiere at the Tianqiao Performing Arts Center in Beijing on Dec 29 and 30, will conclude the fourth edition of the Lao She Theater Festival. [Photo provided to China Daily]
The fourth Lao She Theater Festival invokes new approaches to examining the life and work of one of China's most illustrious men of letters, Chen Nan reports. 
When director and scriptwriter Jiang Tonglin was commissioned to create a new play adapted from Chinese writer Lao She's (1899-1966) works for the Lao She Theater Festival, he decided to combine six of the luminary's works into one play.
My Ideal Life, which will premiere at the Tianqiao Performing Arts Center on Dec 29 and 30, will conclude the festival's fourth edition.
The play Jiang wrote and directed tells one story from each of six works by Lao She, including his prose, My Ideal Family, his script for the oneact play, Mr Breeches, and his novels, such as Crescent Moon and Rickshaw Boy.
"Every year, we put on plays adapted from Lao She's writings. When we read his works, we feel connected and want to share them with our audiences, especially young people," says Jiang, who's one of the founding members of the annual event launched in 2017, which aims to pay tribute to the renowned writer.
Lao She was born as Shu Qingchun to a Manchu family in Beijing in 1899. He's best known for his vivid descriptions of ordinary people's lives, accurate reflections of social realities and precise depictions of Beijing culture, using his unique humor and employing the city's dialect.
His novels, including Rickshaw Boy and Four Generations Under One Roof, and his plays, such as Long Xu Gou (Dragon Beard Ditch) and Teahouse, earned him lasting fame as a literary master.
Lao She committed suicide in Beijing's Taiping Lake in 1966 during the "cultural revolution" (1966-76), leaving a wealth of work that went on to inspire generations of writers.
According to Jiang, besides his famous works, the new play, My Ideal Life, will introduce some of Lao She's lesser-known works.