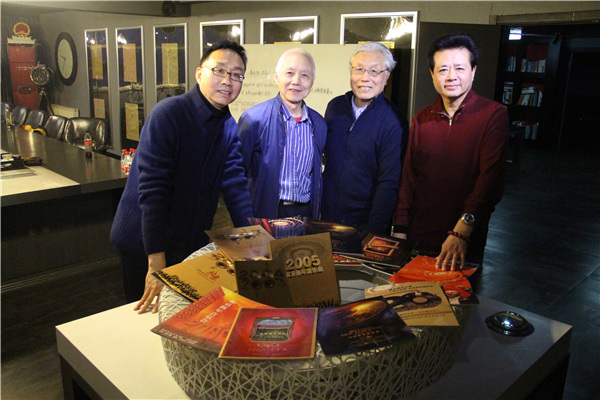 Musicians and enthusiasts (from left) Jia Ding, Shen Chunyou, Wang Ermin and Zhang Shurong gather together in Beijing. [Photo provided to China Daily]
Wang says that he has collected more than 3,000 brochures from the performances he has attended, filling three bookcases at his home. He managed to find 10 brochures for the Beijing New Year's Concert, but he has actually attended far more.
One particular year stands out in his memory. The 2005 edition drew a stellar cast, including Spanish operatic tenor Jose Carreras and Russian violinist Vadim Repin.
"Every time I attend the New Year's Concert, it gives me a novel sensation. To me, the repertoire of classical music is similar, but I will get a different feeling listening to it," Wang says.
Lyricist and director Jia Ding has been directing the concert since 2008, when Ode to the Red Flag, by Chinese composer Lyu Qiming, became a recurring feature.
"We wanted the concert to exhibit its own cultural characteristics," Jia says. "We also hoped that every year, no matter which orchestra or which conductor comes to China, they will perform a Chinese song, bringing varied sensitivities with their own rendition of this piece.
"So far the Beijing New Year's Concert has been hosted 24 times, and a lot of world-renowned conductors and orchestras have performed."
This year's program will select representative performances from past years that will refresh the memories of the returning audience members, while allowing the new viewers to immerse themselves in the jubilant anticipation of the coming year.
"Taking it online will allow more people to feel the festive vibe through the internet," Jia says. "We will bring together the most scintillating moments and the first-class music from the past 24 years into one concert, so that the viewers get to enjoy so many renowned orchestras, conductors and pieces within a limited time.
"This is our special holiday gift for everyone."