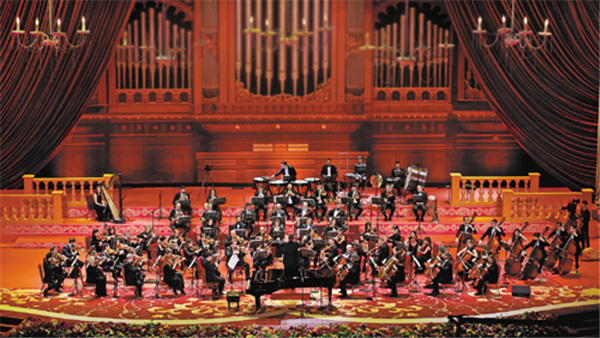 The Athens Philharmonic Orchestra from Greece performs at the New Year's concert at the Great Hall of the People on Dec 31, 2019.Such concerts have been held in Beijing for the past 24 years. [Photo provided to China Daily]
Much-anticipated event at the Great Hall of the People is a popular way to welcome a new year.
For the past 24 years, every Dec 31, at 7:30 pm, the Great Hall of the People in central Beijing resonates to the peal of bells, marking the beginning of the annual New Year's concert.
This year, their sound will ring out across the world as, in an unprecedented move, the 25th edition of the annual concert, hosted by Beijing Artists Management Corp, will take place online.
Shen Chunyou, the former general manager of the company, now retired, remembers vividly the first Beijing New Year's Concert in 1996. He was the chief planner.
Shen recalls that, at that time, many Western countries had a long tradition of New Year concerts, one of the most grand being the Vienna New Year's Concert in Austria, which was aired on China Central Television for three consecutive years.
"Beijing also needed its own concert, with a festive ambiance, unique Beijing characteristics, international standards and Chinese grandeur. This project was built to become an iconic cultural brand in the cultural center of the country," Shen says.
From the beginning of 1995, it took nearly two years to prepare for this concert, with the crew conducting market research and consulting virtuoso Chinese musicians, and finally deciding to host the concert at the Great Hall of the People.
As Western classical music was a niche market in China 25 years ago, the concert was tailored to the general public rather than aficionados.
"Surprisingly, after the news conference, it immediately became a hit. The tickets soon sold out and the Great Hall of the People, very rarely, opened their third-floor seats to the public," Shen adds.
A request from a teacher gave Shen an idea. The teacher, from Beijing Fengtai No 2 High School, inquired if 200 or so senior students could attend the concert as their celebration to ring in the new year.
However, the cheapest seats available could not accommodate the students. Shen then decided to offer all students cut-price tickets, regardless of the seating arrangements.
The concerts have evolved into a yearly ritual for Chinese fans of classical music, one of them being 72-year-old Wang Ermin.
The Boston Symphony Orchestra's concert in Beijing in 1979 was his early introduction to Western classical music, and having experienced the charm of a live concert, ever since, he has attended concerts, dances and operas whenever he could.