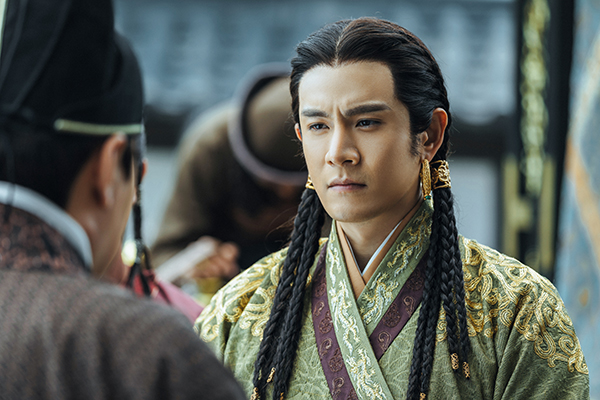 Actor Jing Chao portrays Xiao's husband, Emperor Jingzong. [Photo provided to China Daily]
The trilogy's two other stories are about Liu E, the wife of emperor Zhenzong, who became the actual ruler of the Song Dynasty in the early 11th century, and Mozang, the wife of emperor Li Yuanhao, who founded the Western Xia Dynasty in the 11th century.
Jiang, a native of Wenzhou, Zhejiang province, traveled to Chifeng and Baarin Left Banner in North China's Inner Mongolian autonomous region, respectively the Liao Dynasty's birthplace and former capital, for research.
The Liao Dynasty was founded by nomadic Khitan tribes, who brought tents to move with seasonal changes and hunting prospects. Jiang says she has adjusted the writing style to make dialogue more straightforward and candid to match with nomadic literature.
Although China has surged as one of the world's largest TV-drama producers, small-screen tales about the Liao Dynasty remain limited, making props and settings a huge challenge for the crew.
In a recently released documentary about the drama, the creators recall that they consulted experts and visited museums to tailor around 800 costumes in nine weeks, as well as constructing nearly 50 dome-shaped tents decorated with lavish cloth to build film sets on Inner Mongolia's grasslands.
Khitan royals' and aristocrats' use of gold in daily life, including in tableware, jewelry and saddles-is also reflected in the drama.
"We hope the new drama could raise interest (in the Liao Dynasty), drawing viewers to know more about history," says Jiang.
Despite receiving mixed reviews domestically, the drama has won popularity overseas, exemplified by its scores of 8.2 points out of 10 on MyDramaList and 9.3 points on Viki, two major fan sites for Asian TV dramas.