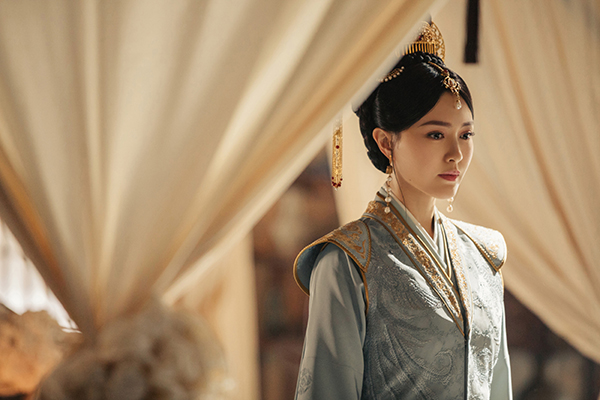 In the historical TV series The Legend of Xiao Chuo, actress Tang Yan stars as the protagonist empress during Liao Dynasty (916-1125). [Photo provided to China Daily]
There's an old saying that behind every great man is a great woman.
This is indeed true in the case of emperor Jingzong. His wife, Xiao Chuo-also known as Xiao Yanyan-assisted him to propel the Khitanruling Liao Dynasty (916-1125) to the zenith of prosperity, making her one of a few legendary women who changed Chinese history.
The 48-episode TV series, The Legend of Xiao Chuo, has run on Beijing Satellite TV and streaming site Tencent Video since Nov 3, guiding audiences to examine the history and culture of the Liao, a dynasty that features less on domestic screens.
The series adapted from writer Jiang Shengnan's award-wining eponymous novel reached a 1.74 percent rating on the first day, soaring as the second most watched TV series then, and related topics have generated 880 million "clicks" on China's Twitter-like Sina Weibo.
The biographical story spans about four decades. It begins with Xiao's teen years as the carefree daughter of a high-ranking official's family. It depicts her romance with her childhood sweetheart, Han Derang.
But her talent and foresight in strategy and administration captivates emperor Jingzong, with their marriage making her the country's most powerful woman and enabling her to fulfill her ambition to lead the Liao Dynasty to unprecedented stability and prosperity.