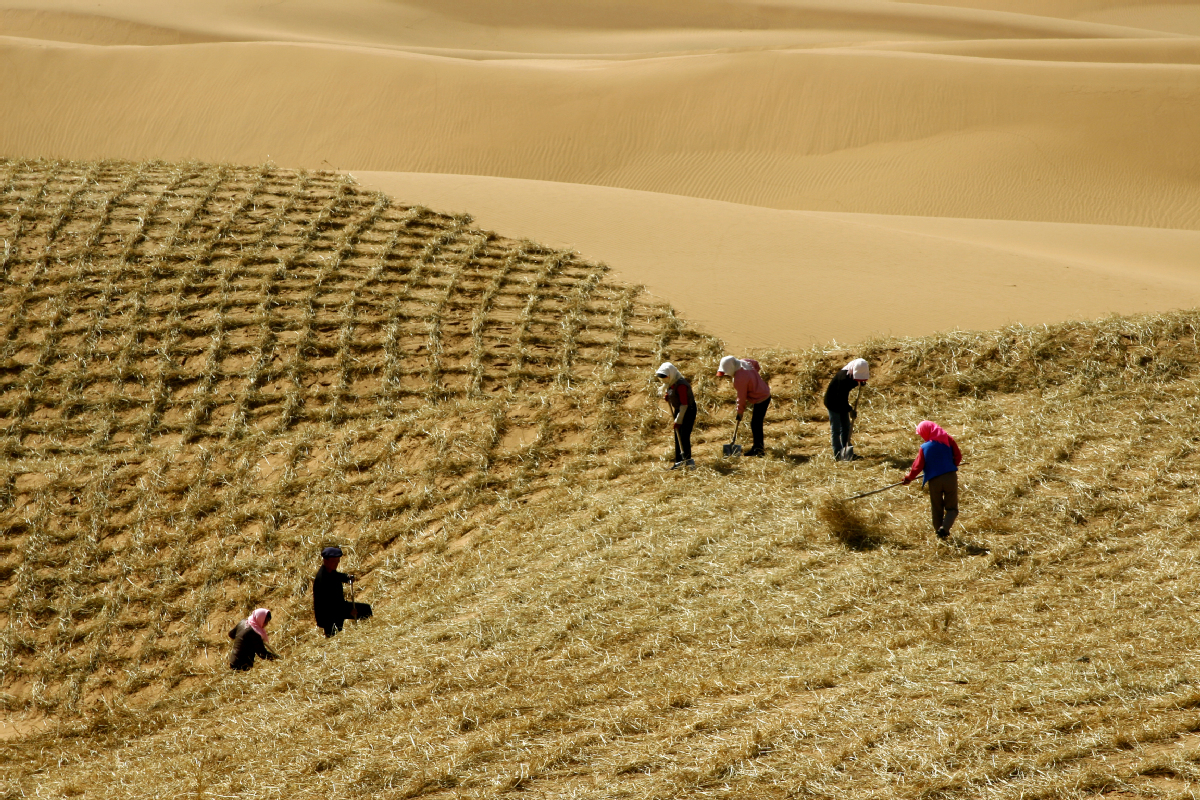 People in Zhongwei, Ningxia Hui autonomous region, use wheat straw to pave checkerboard sand barriers that stabilize the encroaching desert. [Photo provided to China Daily]
Like many, the first thing Ji Xuexin does every working day is look at her phone. Not, however, to check the latest updates and notifications on social media. As a sanitation inspector in Zhongwei, Northwest China's Ningxia Hui autonomous region, she will open the sanitation cloud app to check the status of the sanitation workers in her jurisdiction and upload the most recent sanitation data.
Since 2016, Zhongwei has been running an intelligent sanitation cloud management system that combines technologies including geographic information systems, the Internet of Things and mobile internet.
The city has set a standard that, on its streets, fly ash per square meter should be less than 5 grams and that rubbish and litter should be removed within five minutes. The sanitation cloud app is helping to achieve that goal by distributing resources more effectively.
Located to the south of China's fourth-largest desert, the Tengger, Zhongwei strives to develop its cloud computing industry together with desertification control and has seen initial success.
According to Li Bin, deputy director of Zhongwei cloud computing and big data development bureau, the development of the cloud computing industry in Zhongwei started in 2013 and it has been taking active measures to build its Western Cloud Base into one of the country's major agglomeration areas for a data center.
"We have attracted over 140 companies from home and abroad to settle in our cloud base, including Amazon Web Services, Qihoo 360, Meituan and Meili Cloud," Li says. "In the first three quarters, we have accomplished fixed asset investment of 780 billion yuan ($117.8 million) and the accumulated fixed asset investment has reached 7.42 billion yuan."
Li recalls that when AWS were looking for a location to build its data center in China, they visited 83 cities and listed 282 conditions. "In the end, they concluded that Zhongwei is the best location."
Li thinks there are several advantages that Zhongwei has when looking to develop a cloud base. "First, Zhongwei is within 2,000 kilometers of most of the major cities in China, which is an optimal distance for building a fiber-optic network," he says.
Second, the geological structure of the region is stable, so that it's incredibly rare for there to be an earthquake exceeding a magnitude of 7.0. The abundant land resources and the climate are also advantages-the annual average temperature is 8.8 C and there are over 280 days in a year that the atmospheric environment is excellent.
"Last but not least, clean energy creates over half the generated electricity in Zhongwei and the price of water and natural gas is low," Li says.