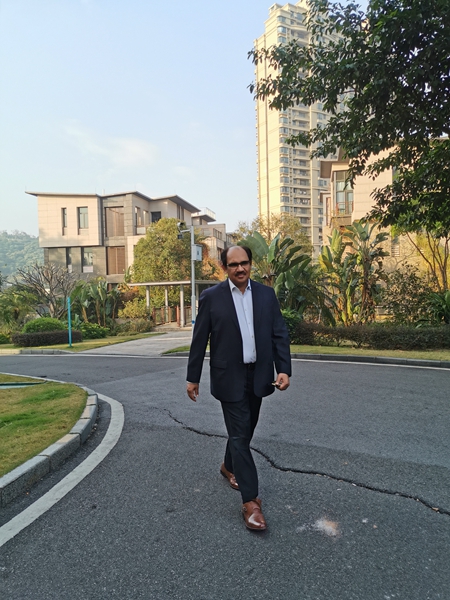 Since my first visit to China in 1976, this was the first time that I was away from China for almost eight months.
I had been fortunate enough to be present in China at every important moment since 1976. I was feeling uncomfortable not being able to visit China and experience the situation after the eruption of COVID-19.
I was in China last year but left on Jan 24, just before the Chinese New Year, with plans to return in March but could not travel as planned due to travel restrictions imposed by the Chinese authorities.
The moment the restrictions were relaxed, I applied for a fresh visa and made a flight booking to travel on Sept 24.
Knowing well that I will have to spend 14 days in very strict quarantine and having absolutely no idea about what kind of facilities and situation will be waiting for me, I decided to undertake this journey.
I boarded Air China flight CA 946 from Islamabad, which took off at its scheduled time.
To my surprise, I was the only Pakistani (foreigner) in the flight. The flight was uneventful and we landed around 7 am on the morning of Sept 25 at terminal 3 of the Beijing Capital International Airport.
For smooth handling of the incoming passengers, disembarkation was organized in batches of 50 passengers. I disembarked with the third group of passengers. It was a totally "new" airport with very few open areas and everyone wearing COVID-19 protected costumes.
After going through very smooth but long procedures of quarantine, immigration and customs, finally we reached the place to collect checked-in luggage, before boarding the buses to an unknown destination.
After a drive of almost 100 minutes we reached at our destination where, again, a procedure of disembarkation in groups took place. It took another hour till I was able to complete my registration with the medical team and hotel check in and reach my room.
After settling down in the small but clean room (where I had to spend next 14 days), I looked at the facilities and was quite satisfied.
Soon we got our first lunch, I called the hotel reception to check if Muslim or vegetarian food could be made available as I have some dietary restrictions. It was an unexpected "demand" for the receptionist and she promised to call back. After a short while, she called back and assured that Muslim food will be provided throughout the stay and I may eat without any worries. This response was indeed a pleasant surprise for me.
Next day, we were given a packet with some nice gifts and bilingual information kit with answers to some of the possible questions I had in my mind regarding my stay at the facility.
A hotel-based medical team used to call twice a day to check temperatures and ask if any help is needed.
Hot and delicious food was delivered three times a day. Everyday a different variety along with fruit, yogurt or juice was served.
The hotel staff were very helpful, always prompt in delivering items needed.
I had brought quite a few books with me. Beside watching my favorite TV programs, reading the books, chatting with family and friends on phone and having light exercise within the room, there was nothing else one could really do.
The final COVID-19 test was conducted on the 13th day and we were allowed to leave the facility the following day. A quarantine completion certificate was given to everyone including me, but mine was in English.
This lifetime experience was unique and I had absolutely no regrets in undergoing through this exercise.
China's capability, capacity and determination to meet any kind of challenges was proved once again. All concerned organizations from embassy, airline, immigration, health, customs, transport and hotel were working in close coordination and harmony. There was absolutely no panic and emergency like situation and everything was being handled very smoothly in a professional manner.
Through this note I wish to place on record my recognition and deepest appreciation for all the concerned departments and individuals who had been working with complete dedication and commitment under these abnormal circumstances.
From a foreigner's point of view, I wish to make the following suggestions for consideration.
1. Every incoming passenger must be handed over an information kit (about what is going to happen) before disembarking the plane. This will enable them to mentally prepare for the upcoming activities and estimated time required before reaching the quarantine facility.
2. At least one English language TV channel or newspaper may be made available at the facility.
3. Copies of the COVID-19 test reports and quarantine completion certificate must be provided in Chinese language to avoid problems at the time of check-in at hotels, buying plane and train tickets.
Thank you, China, for leading the world in the fight against COVID-19 and handling the situation in a very responsible manner without creating any panic for the public at large.
The author is the founder of Understanding China, former special envoy (with the status of an ambassador) for the China-Pakistan Economic Corridor (CPEC), and former consul general of Pakistan in Shanghai.