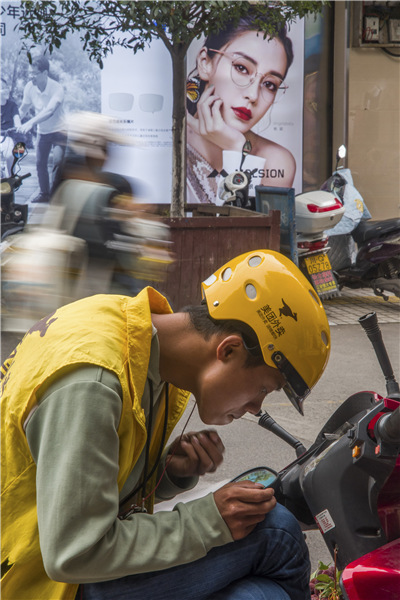 A food delivery rider takes advantage of his leisure time to groom his beard in Jiang'an county, Sichuan province. [Photo by Kang Taisen/For China Daily]
Editor's note: Kang Taisen, a photographer who is over 60 years old, worked as a photojournalist in a newspaper in his early days, and he developed acute observation and photographing skills. He is keen on photographing ordinary people, and he is good at expressing the dramatic and vivid life scenes in our daily life. His photography is not only imbued with the imprint of the times and humor, but also with a life attitude that is thought-provoking. Kang has been constantly on the road, using his lens to take us face-to-face to the normal life of people in remote areas, without interference and exaggeration. His photos have become a true portrayal of the different stages in the process of our social development.
I started using my camera to create my own art in 1985-seven years after the reform and opening-up officially took place. At that time, I was deeply inspired by the works of some famous foreign photographers, especially their works on China. You must be curious about how I operate the camera. There's nothing strange about it-I just have my own technique. In the following 30 years, my lens has always been focusing on ordinary people. I realized that the most intuitive changes in China's reform and opening-up should be reflected in people's lives and the betterment of mankind. I have become accustomed to integrating the people I want into my photographs in my own way. A lot of people don't know I'm just like them-an ordinary person who is busy working for a living all day long with the same happiness and sorrow. Recording their lives actually reflects my own life. I also believe that ordinary people can do extraordinary things.