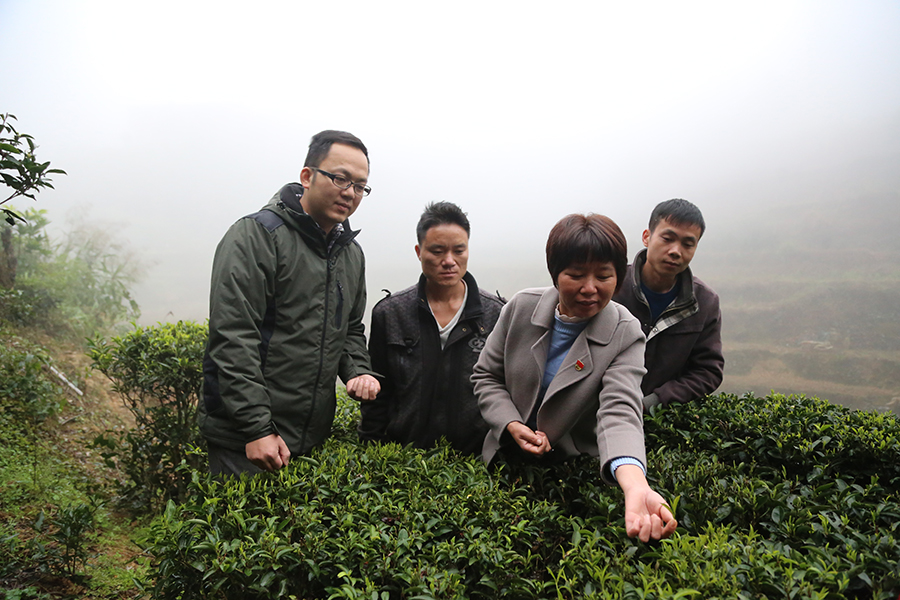 Zhu Xuelan instructs tea growers in Shanping village in the Guangxi Zhuang autonomous region's Liubao town. [Photo provided to China Daily]
Shanping village has the ideal conditions for tea production-a goldilocks equilibrium of humidity, sunshine and soil, and an elevation of 600 meters above sea level.
However, the predominantly ethnic Yao settlement in the Guangxi Zhuang autonomous region's Wuzhou city produced poor harvests for years.
"Every family had their own way of growing and processing tea," says Lin Zhuxiong, mayor of Liubao town where the village is located."The yield was low and the quality of tea was uneven among different growers. People felt discouraged about growing tea when nobody came to buy it."
From the 1990s to the mid-2000s, rural residents chopped down the aged tea bushes-some were even over one-century old-and switched to growing anise and crops.
Shanping was listed by the local government as "an impoverished village" before 2016.
Zhu Xuelan, a resident of Shanping, became the Party chief of the village in 2008. She grew up with her grandparents, who were tea growers. So, she knew it was essential for her to share her skills and resources to help people out of poverty.
"My grandparents got up early and walked for three hours to the town to sell tea," Zhu says. "They stayed there for two hours and rushed back home before it got dark. I had seen their hardship. I don't want people today to repeat that."
After becoming the Party chief, Zhu began to teach villagers how to grow and process tea.
"If they still cannot handle the tea leaves well, I'll buy them for further processing," Zhu says. "People will only feel encouraged if they see hope."
A good opportunity came in 2013, when Zhu became a deputy to the 12th National People's Congress. She has been a deputy to the 13th congress since 2018 and knows she has to speak for the interests of her community.
"I take every opportunity to promote Liubao tea among other deputies, who at first didn't know much of this celebrated variety," Zhu says."But once they knew, they helped."
A research group on the rural economy organized by NPC deputies visited Shanping in 2015. They had close contact with the local tea cultivators.
Liubao tea is establishing a reputation as a valuable age-old variety. Today, the village receives orders from tea merchants. The largest order Zhu received was for more than 5,000 kilograms at one time. More residents of Shanping have recently joined the business.
After years of working in factories in Guangdong province, Pan Yuemei, a rural resident, returned to the village in 2013.
"Zhu told me I don't need to worry about where to sell the tea. The only thing I needed to do is to grow it well," says Pan, who planted one-third of a hectare of tea and earned about 100,000 yuan ($14,400) last year.
She plans to expand her plantation to 1 hectare this year.
The village contained fewer than 20 hectares of tea fields in 2013, and hosts twice that today. In 2014, the average per capita income in the village was about 5,000 yuan, but the number was over 9,000 yuan in 2019.
Liubao tea can be produced from spring to fall, and the leaves from early spring, which are most tender, are of top quality. Nevertheless, even the tea from late fall also has a unique flavor and is dubbed "the old tea granny". Leaves aren't picked in summer because the plants need time to grow.
With the booming tea industry, Shanping's residents are also preparing to welcome tourists. A Shenzhen-based company is building a homestay with 20 or so guestrooms in the village. The venue is expected to open by the end of the year. Some villagers are also preparing to open family inns.
"Liubao tea tastes best in Liubao because its flavor is also determined by the water here," Zhu says."You'd better stay to have a real cup."
Related: A tea town infused with prosperity