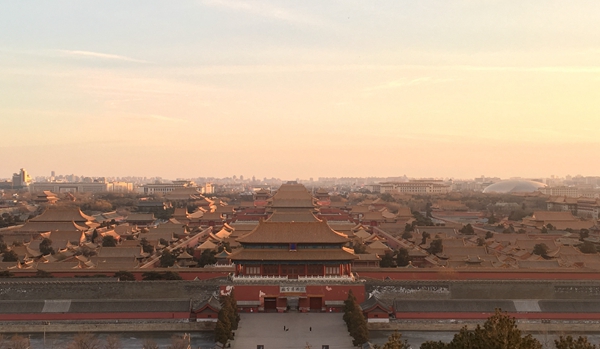 The Forbidden City in Beijing seen from Jingshan Hill.[Photo by Wang Kaihao/China Daily]
Similarities and differences between Beijing's Palace Museum and the ruins of earlier palatial structures in Anhui are revealing more about little-known periods of history, Wang Kaihao reports.
Editor's Note: 2020 marks the 600th anniversary of the founding of the Forbidden City in Beijing, China's last imperial palace. China Daily journalists will talk with researchers and scholars this year to chronicle the history and legends surrounding this architectural splendor that houses over 1.86 million cultural relics.
How many "forbidden cities" are there in China? Several. And their similarities and differences are shedding light on ancient mysteries as excavations uncover them.
For centuries, the Forbidden City, officially known as the Palace Museum today, has stood in the heart of Beijing and witnessed the rise and fall of dynastic power and the nation's ongoing rejuvenation.
This roughly 720,000-square-meter compound that served as the imperial palace from 1420 to 1911 is also the world's largest surviving palatial complex.
But the prequel to this architectural splendor, hidden about 1,000 kilometers away in Fengyang county, Anhui province, is much lesser known worldwide, although it was inscribed on the list of key heritage sites under national-level protection as early as 1982.
The Ming Dynasty (1368-1644) Zhongdu (literally, the central capital) site could be thought of as "the Forbidden City 1.0".
As the Forbidden City in Beijing embraces the 600th anniversary of its founding this year, archaeologists' shovels will gradually reveal more remarkable facades of the Anhui site.
After several months of suspension due to the COVID-19 outbreak, a new round of archaeological excavations on the site resumed in late May.
Since 2017, scholars from the Palace Museum in Beijing have joined the Anhui Provincial Institute of Cultural Relics and Archaeology and several other institutions to conduct research at the site, which the founding Ming emperor originally planned as his capital.