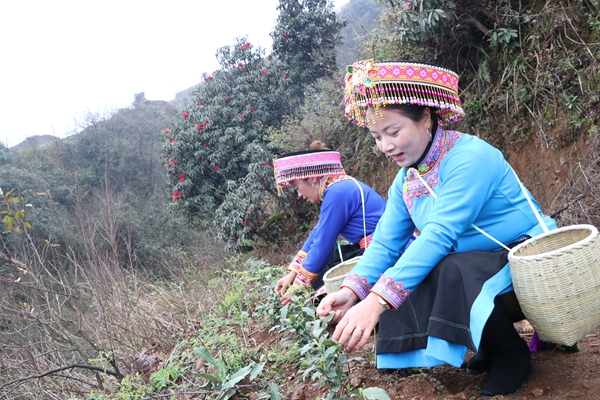 The saplings donated by farmers in Anji, Zhejiang province, bring hope to ethnic groups living in impoverished Pu'an county, Guizhou province.[Photo provided to China Daily]
An elegant tea bag caught people's attention as Xu Ping, a deputy from Qingchuan county, Sichuan province, shared a story of how this small item made such a great difference to her hometown with other participants at the third session of the 13th National People's Congress in Beijing in May.
The bag, in white cloth with an embroidered pattern of two green tea leaves, contained Baiye Yihao, or White Leaf No 1, a white tea. Saplings were donated by farmers in Anji county in Huzhou of Zhejiang province to Qingchuan.
In April 2018, 20 farmers in Huangdu village in Anji-all members of the Communist Party of China-wrote a letter to President Xi Jinping, recounting their initiative in donating 15 million tea saplings to help people in poor areas.
"When drinking the water of a well, one should never forget those who dug it. After becoming rich, we have never forgotten the kindness and love of the Party," the farmers wrote in the letter.
It's of great significance that those who have already become well-off help those who are still living in poverty, Xi said in response to the letter in July that year, praising the farmers for their donations.
Later that year, a total of 34 villages in Hunan, Sichuan and Guizhou provinces were designated to receive the donated tea saplings.
Qingchuan received a total of 5.4 million tea saplings from Anji, and in March this year, the first batch of Baiye Yihao tea was picked.
It is expected that these donated saplings will help 633 households of farmers in Qingchuan to be lifted out of poverty by 2022, Xu says.
In Southwest China's Guizhou province, the donated tea saplings have also played a vital role in helping the poverty-stricken population to shrug off their impoverishment.
Zhang Yong, the head of Zhiqiang village, was particularly excited when the saplings arrived at Zhongzhai township, Yanhe Tujia autonomous county of Tongren in Guizhou, on Oct 20, 2018.
Just two hours after their arrival, Zhang, along with a representative from Anji, planted the first one at 6 am in the drizzle.
"Tea is a product that can generate revenue in the long term. If developed well, it will substantially increase the villagers' income," Zhang says.
This is not the first time that Zhang started growing tea in the village, but due to the lack of funding, the previous attempts did not yield satisfactory results.
"Because the natural environment of our village is suitable for growing tea, the village has a long tradition of making tea and we still have a few tea trees left."
In 2017, a dozen farmers from the village established a professional cooperative for tea planting, with each person investing 5,000 yuan ($715).
"Because we didn't have the knowledge and technology, we simply processed our tea leaves and sold them to surrounding villages. It wasn't really a proper business. Only when our village was selected as the location for growing Anji white tea, did we adopt a systematic approach to developing our tea industry," Zhang says.
In August 2018, Zhang and some other officials from Yanhe went on a one-week field trip to investigate the local white tea industry in Anji.
When he came back, the village started cultivating the barren mountains for farming. Zhang says because of the villagers' enthusiasm, they cultivated 33 hectares of land in a month.
For the first batch, Huangdu village in Anji donated 3.6 million saplings. And just 20 days after the saplings arrived, the three villages of Zhiqiang, Dazhai and Sanhuixi in Yanhe finished planting them.
These saplings covered 80 hectares of land in the three villages. More than 1,500 people from 381 impoverished households participated in the plantations' maintenance, including weeding, plowing and fertilizing, getting paid over 2.5 million yuan in total.