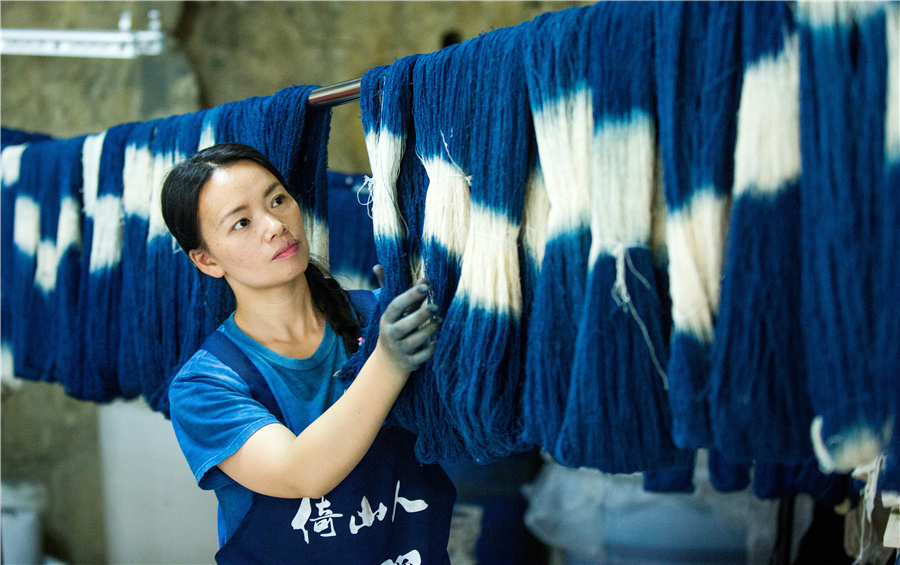 Yang Chenglan checks dyed cloth hanging on a line on May 28. [Photo by Fu Jianbin/For China Daily]
Yang Chenglan is the first person in Fengdeng Dong village, Guizhou province, to graduate from university. However, she gave up her life in the city and teaching job to return to her hometown in Rongjiang county in the Qiandongnan Miao and Dong autonomous prefecture to start a business in 2016. In her village, weaving and dyeing have been traditional crafts of the women from the Dong ethnic group for generations. However, the crafts are in danger of disappearing as many locals are leaving for work in the city. Yang, who is from the balinghou or post-1980 generation, decided to protect this traditional Dong way of weaving and dyeing.
Together with the other women in her village, Yang worked with them to experiment using different plants to dye cloth. At present, the age-old Dong ethnic crafts have flourished under Yang and her fellow villagers through these innovative methods, with the dyed cloth gaining popularity and selling well at home and abroad. This business has also helped revitalize Yang's village.