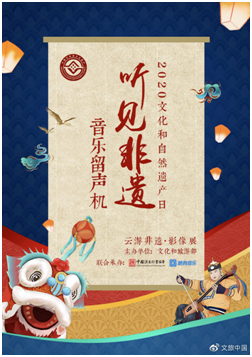 A poster for the "Hear ICH" program to be held on Kugou. [Photo/Official Weibo account of Ministry of Culture and Tourism]
2. Dig into ICH music on Kugou
Music buffs should prick up their ears and check out a special list on music streaming site Kugou. The list will enable you to dig into pure ICH music and songs layered with ICH musical elements.
For example, you can immerse yourself in ancient classic tunes featuring traditional Chinese instruments like guqin, erhu and pipa, or listen to rock or pop music fused with the Mongolian technique errenzhuan (a type of folk singing and dancing popular in Northeast China), or other ethnic music forms.
3. Visit online ICH shopping festivals
Without a doubt, buying ICH products is probably the best way to support ICH and keep inheritors motivated.
Under the sponsorship of the Ministry of Culture and Tourism, an online ICH shopping festival is being held across the country's major e-commerce platforms such as Alibaba, JD and Suning, as well as Kuaishou, a leading short video and livestreaming platform.
So just head to the fest, feast your eyes on those delicate ICH items and get some for yourself or your friends!