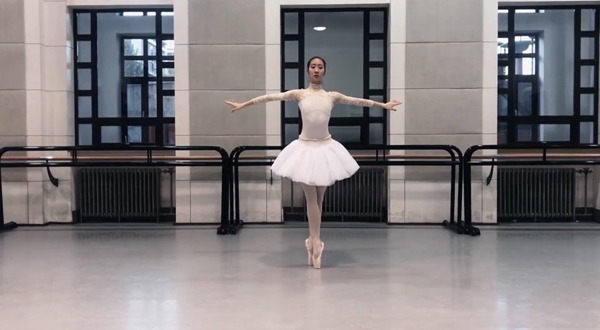 Chinese dancer Xu Yan performs The Dying Swan, from a video to support the global community of dancers affected by the COVID-19 pandemic.[Photo provided to China Daily]
The dancer wanted to have a diverse group for the video, so the 32 ballerinas represent 22 companies from all around the world, including China, Russia, Europe, Cuba, Mexico, the Philippines, South Africa, Canada and the United States.
One of the ballerinas featured in the video is Xu Yan, a 25-year-old Chinese dancer with the National Ballet of China, who performed the piece at the company's rehearsal rooms in Beijing.
"About two weeks ago, I was invited to join in the project through a friend. Since the performance venues are closed due to the outbreak, the performing arts market is suffering. It's a great idea to interact with ballet fans and raise funds for ballet dancers, who are facing challenges now," says Xu, who joined the National Ballet of China in 2011 after she graduated from the dance school affiliated to the Shanghai Theater Academy the same year.
The dancer plays leading roles in the productions of the National Ballet of China, such as Dunhuang, inspired by the Mogao Grottoes in Northwest China's Gansu province, and Russian choreographer George Balanchine's classic three-act ballet, Jewels.
According to Xu, though Copeland has never performed with the National Ballet of China, she is well-known among Chinese dancers since she is a star ballerina.
The National Ballet of China and the American Ballet Theater have held cultural exchange events, which enabled the two companies to build a friendship. In 2015, dancers of the two companies performed Swan Lake at the National Center for the Performing Arts in Beijing.
"Art brings people together. This project certainly proves how powerful art is when we are experiencing shared emotions resulting from the spread of COVID-19," Xu says.