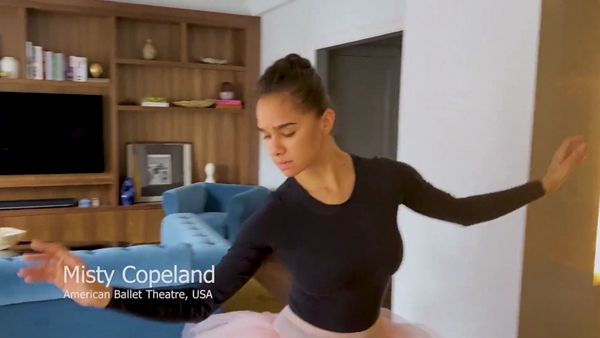 Misty Copeland  performs The Dying Swan, from a video to support the global community of dancers affected by the COVID-19 pandemic.[Photo provided to China Daily]
Thirty-two dancers from 14 countries came together to give a performance for a virtual audience, in a bid to mitigate the impact of the coronavirus pandemic on members of the ballet community.
They performed the iconic piece, The Dying Swan, set to the music of Le Cygne (The Swan) written by Camille Saint-Saens and performed by cellist Wade Davis.
The video, titled Swans For Relief, saw ballerinas in their pointed shoes dancing indoors and outdoors, against the varying backgrounds of living rooms, dining rooms, kitchens and garden lawns.
"Today, my fellow ballerinas and I launch Swans For Relief, a fund to support the many dancers in our global community that are no longer able to work due to the coronavirus," said American Ballet Theater principal dancer Misty Copeland, on her Twitter account on May 6. She came up with the initiative with her former colleague, Joseph Phillips.
Copeland was also the first ballerina featured in the video, who, in her tutu and toe shoes, performed the dance near her TV and couch.
"I made a point to name it by its original name, Le Cygne, The Swan. The significance of this iconic variation is in the choreography. The purpose of the dance is not to display technique but to create the symbol of the everlasting struggle in this life and all that is mortal," she said on her Twitter account.
Born in Kansas City, Missouri and raised in San Pedro, California, Copeland began her ballet studies at 13. She joined the American Ballet Theater as a member of the corps de ballet in 2001, and in 2007, she became the company's second African-American female soloist and the first in two decades, according to Copeland's official website. In June 2015, she was promoted to principal dancer, making her the first African-American woman to ever achieve the position in the company's 75-year history.