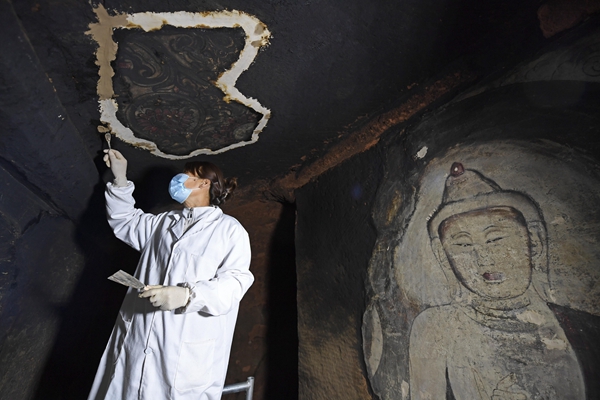 Relic restoration experts repair murals in the No 48 cave of Yuanguang Temple at the Xumishan Grottoes in Ningxia on April 27. It's the first repair and recovery project carried out at the 1,500-year-old grottoes since the Qing Dynasty.[Photo/Xinhua]
To take the chill off their bodies, they usually take a break every two hours to bathe in the sunshine and sip a cup of hot tea. "Over an hour of work in the cave can chill one to the bone," 69-year-old Wang Xiaosheng says.
Wang Xirong, 40, son of Wang Xiaosheng, is the youngest member of the team. He started his career in his 20s, around the same age that his father followed in the steps of his grandfather.
"It was not easy for me to stick to the job at the very beginning, as we often spend months or years away from our families, and sometimes it is like living in the wilderness," says the 40-year-old.
Together with his father, Wang has traveled half of the country to repair mural paintings, including in the relic-rich Shanxi and Shaanxi provinces, as well as Sichuan province after the 2018 earthquake.
"The past decades have polished my edges, as I have been truly impressed by the craftsmanship and patience of the ancient artisans who left the treasures for us," he says.
"Those who make it a lifelong career are those who have a passion for cultural relics and history," says Wang's father.
Decades of life in grottoes make it hard for the seven experts to keep up with the pace of modern life, but they always keep themselves updated with the latest knowledge and techniques of their craft.
"It's my dream to repair works at the Mogao Grottoes in Dunhuang (Gansu province) which is heaven for craftsmen like me," Wang says.