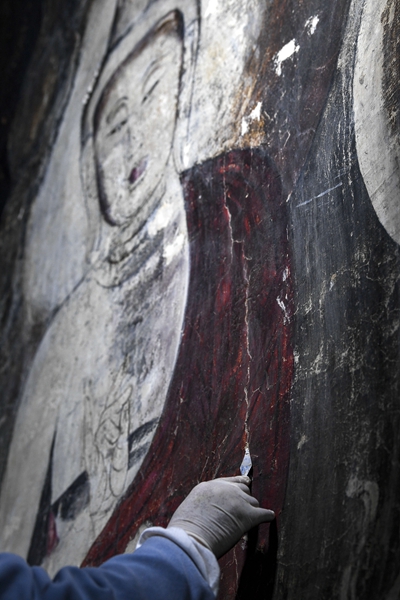 Relic restoration experts repair murals in the No 48 cave of Yuanguang Temple at the Xumishan Grottoes in Ningxia on April 27. It's the first repair and recovery project carried out at the 1,500-year-old grottoes since the Qing Dynasty.[Photo/Xinhua]
Even during the scorching summer, the team of seven had to wear layers of thick clothes and knee pads to stay warm in a freezing and damp grotto. The dark space is dimly illuminated by their headlights and is home to wall paintings dating back hundreds of years.
They are not adventurers, but seven restorers who are helping to bring back the luster of the artwork found in more than 160 grottoes that dot the red cliffs of Xumishan in Northwest China's Ningxia Hui autonomous region.
The Xumishan Grottoes, first built in the late period of the Northern Wei Dynasty (386-534), house 162 caves and more than 1,000 statues, along a main stretch of the ancient Silk Road.
The murals, which total 185 square meters, are now in dire need of repair due to destructive human behavior and natural factors such as erosion that have occurred over the course of a millennium.
"I got goosebumps when the whole pattern of the painting showed up clearly after we had spent some 20 days cleaning it," says 60-year-old Wang Minquan, an expert in the group who has been participating in the year-long repair program-the largest of its kind since the Qing Dynasty (1644-1911)-since April.
The work can be tedious and demanding, Wang says, adding that young people these days do not have the patience to climb up and down the scaffolds, fix cracks and clean flaky walls all day.
On some steep rocky slopes, the team has to scramble a few dozen meters to reach a higher stone statue, with ropes tied around their waist like a climber.
Years of work in the freezing and dark grottoes has resulted in cervical spondylosis and cold legs for Wang and his colleagues.