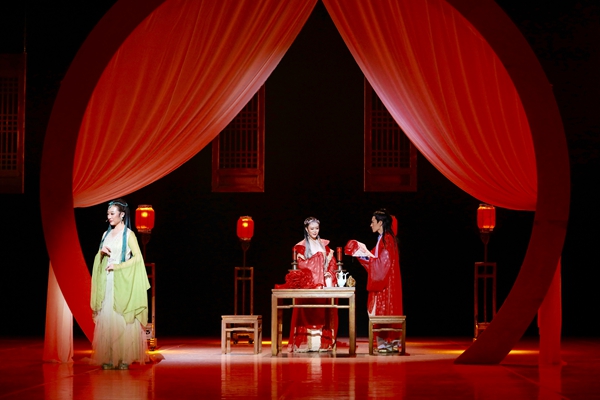 Scenes from Love Forever, a Chinese musical adapted from The Legend of the White Snake, in which Fahai, a Buddhist monk, tries to capture the snake's spirit; Xu Xian, a kind young man, marries Bai Suzhen, the White Snake spirit, which is played by Sun Yuan, a singer with the China National Opera and Dance Drama Theater.[Photo provided to China Daily]
Singer Zheng Qiyuan, who has gained a large fan base with his appearances in popular reality show Super Vocal Season II and performance at the CCTV Spring Festival Gala on Jan 24, will play the leading role of Xu Xian, a humble and kind young man. He falls in love with, and gets married to, the White Snake, which transforms into a woman. However, the marriage is opposed by Fahai, a Buddhist monk in Jinshan Temple, who maintains that coexistence of the human and the evil spirit is not allowed. He then imprisons the snake spirit under Leifeng Pagoda on the bank of the West Lake and the couple have to overcome many obstacles to be together.
"Performing in front of empty seats is challenging, yet fulfilling. I missed the feeling of performing on-stage when I had to stop performing due to the pandemic. It's a creative solution for theaters to get through this difficult time," says Zheng, 40, who graduated from Shenyang Conservatory of Music and joined the China National Opera and Dance Drama Theater in 2002.
Singer Sun Yuan will play the role of the White Snake (Bai Suzhen), while her fellow vocalist, Chen Mengzi, will play the role of her companion, the Green Snake, another snake spirit who transforms into a woman.
Tian notes that the dancers and singers of the theater had to get used to training and keeping in shape at home when the outbreak began. They shared their training sessions with fans online in a bid to help satisfy the audiences' thirst for cultural content during the lockdown.
"Of course, it's a very difficult time for us. We really rely on performances to keep in touch with our audience," Tian says. "The first attempt at staging online performances might help and offer us a different way of sharing our work. As for the audiences, they will be recharged with art."