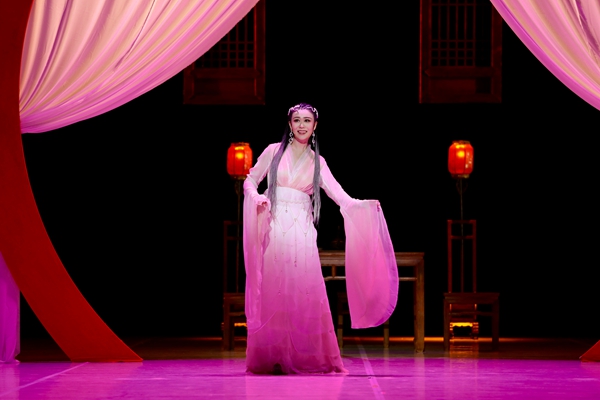 Scenes from Love Forever, a Chinese musical adapted from The Legend of the White Snake, in which Fahai, a Buddhist monk, tries to capture the snake's spirit; Xu Xian, a kind young man, marries Bai Suzhen, the White Snake spirit, which is played by Sun Yuan, a singer with the China National Opera and Dance Drama Theater.[Photo provided to China Daily]
"For the first time, we premiere a theatrical production online rather than in a theater, which is very exciting and fresh for all of us," says Tian Yan, head of the opera troupe of the China National Opera and Dance Drama Theater, adding that the idea of the musical started three years ago and it has been postponed due to the viral outbreak. "We had no idea if the audiences would accept the new way of premiering a show online or not, but once the news of the musical's premiere was released, they reacted warmly."
According to One World Culture Communication Co Ltd, a company under CPAA Theaters, the musical will cost 6 yuan ($0.85) for viewers who have a Youku membership and 12 yuan for non-members.
"When they reopen, we will take the musical back to the theaters, with shows touring around the country," says Yu Tingting, deputy general manager of One World Culture Communication, adding that the online premiere wouldn't affect the ticket revenues of theaters. "For theatergoers, watching a show inside a theater is an experience which cannot be replaced by watching shows online. When the outbreak ends, everything will be up and running again and will soon get better."