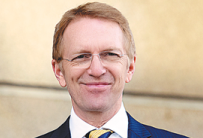 Radek Cais, general manager of The Ritz-Carlton Tianjin Hotel and The Ritz-Carlton Executive Residences [Photo provided to China Daily]
For example, the hotel's executive Chinese chef Goh Wooi-cheat and Tianjin cuisine chef Zhang Weijin collaborated to create a modern, luxurious interpretation of traditional baozi steamed stuffed buns during the closure of the hotel in late January.
They tried many times and finally created recipes that provide guests with an unforgettable dining experience. By combining high-end ingredients, such as Australian scallops, and Black Angus beef with foie gras, the culinary artists at the hotel have crafted comfort food and the "gourmet signature buns" of the hotel.
"We want to bring our services and products to the next level," the general manager emphasized.
During its closure, the hotel has spent a lot of time on training its staff members to work in the "ladies and gentlemen" spirit and provide a safe environment for guests.
"In addition, we have expended tons of effort to create a new dining experience," Cais said.
At Zest, each culinary station is a cooking showcase of visual experiences as chefs prepare fresh dishes. Several signature dishes are presented to guests at the table, creating a storytelling and refined-dining experience.
"We have open kitchens so that the guests can see how the dishes have been prepared," Cais said. "Instead of guests going to get their own food, such as with a traditional buffet, our chef will bring the dishes to the guest and tell the story of each dish so that the guest understands the authenticity behind each one."