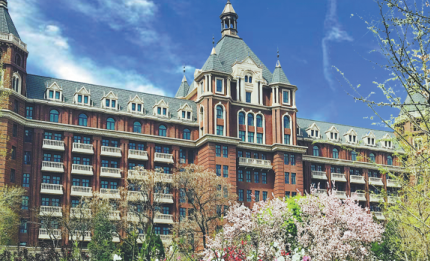 The Ritz-Carlton, Tianjin reopens on April 24. [Photo provided to China Daily]
The Ritz-Carlton, Tianjin has seen a steady rise in room bookings and guests to its luxury restaurants and open-kitchen restaurant, Zest, since reopening on April 24.
"Though the May Day holiday period was not what it has been in the past, we did reach an occupancy above 50 percent with respectable rates," said Radek Cais, general manager of The Ritz-Carlton Tianjin Hotel and The Ritz-Carlton Executive Residences. "The performance was not supported by discounted products," he added.
"At The Ritz-Carlton, we prefer not to work with discounts," he said. "We pledge to provide the finest personal service and facilities for our guests who will always enjoy a warm, relaxed yet refined ambience."
To show the hotel's appreciation for dedicated medical professionals around the globe who are fighting the novel coronavirus, "we have carefully prepared a special complimentary lunch for two at Zest, available to all of the superheroes who choose to stay overnight at our hotel," Cais said.
Located in the heart of Tianjin, the hotel has architecture that reflects the city's long history and robust modern development. It has become a landmark hotel in Tianjin.
With the COVID-19 outbreak well under control in China, the hotel is giving priority to its commitment to working harder under the company's motto "we are ladies and gentlemen serving ladies and gentlemen". It is part of the Ritz-Carlton Gold Standards, which were created in 1983, the general manager said.
"Service is our profession and we are proud of our profession. It stresses hospitality is a people-oriented business… from deep in the hearts of our ladies and gentlemen. We care about our guests and we care about each other," he noted.