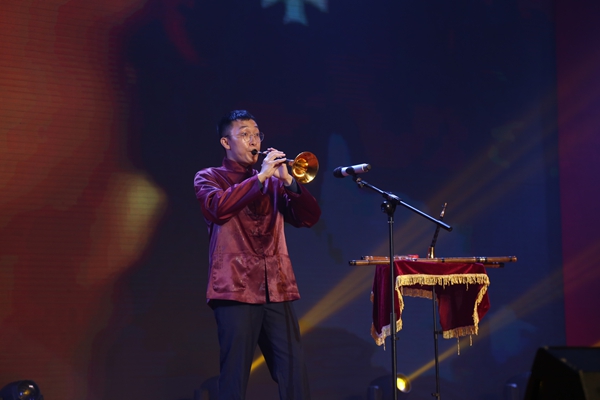 Lin Shenli, a Shenzhen-based electrical engineer, plays the suona onstage.[Photo provided to China Daily]
One of the most impressive comments he received is: "The stereotype is wrong. The suona is so commonly seen that its sounds have been ignored. In fact, it's a beautiful musical instrument rather than something simply making a high-pitched sound."
Born and raised in Guangzhou, Guangdong province, Lin graduated with his master's degree in electronic engineering from Zhejiang University in 2017 and has been working in Shenzhen as an electrical engineer since.
Music has always been a part of his life, although Lin never considered taking it as a career.
He learned to play bamboo flute 10 years ago and he also plays the suona and sheng (a traditional Chinese wind instrument).
"It was hard to play the right tones when I learned these traditional instruments, but I played them for fun, so the learning process was full of joy because I was under no pressure," Lin says.
Traditional Chinese musical instruments, such as the suona, have gained a new fan base among the younger generation thanks in part to social media platforms, such as Chinese short video-sharing platform Douyin.
From April 10 to 13, Douyin launched an electronic music festival titled DouLand, during which several young Chinese suona players displayed their musical talent by illustrating what the musical instrument can do.
One of them, named Chuanzi, in his early 30s, adapted a remastered vocal version of Norwegian music producer Alan Walker's hit, The Spectre. To Chuanzi's surprise, Walker left him the message "brilliant, love this" after watching his suona version of the song.
Another suona player who goes by the stage name, Asheng, has been covering hit songs with the instrument since 2016. In one of his videos, clad in a hoodie and cap, Asheng played American singer-songwriter Billie Eilish's Bad Guy with a saxophone and a suona, which was watched over 800,000 times.
In another performance, the 27-year-old from Shenyang, Liaoning province, adapted Lemon, the chart-topping song by Japanese music star Kenshi Yonezu, on the suona, which garnered over 2 million views.
Asheng, who studied in Taiwan, graduating with a major in traditional Chinese music in 2018, learned to play suona when he was in high school.
He admits that people's prejudice against traditional Chinese musical instruments has limited the development of the suona.
"Few people want to learn it, because they consider it 'unfashionable'. Many people don't know the capability of the musical instrument," says Asheng.
He mentions Song of the Phoenix, the final film released in 2016 of the late director Wu Tianming (1939-2014), which depicts a young suona apprentice who wants to form his own musical troupe at a time when the presence of traditional instruments is in decline in contemporary Chinese society.
"The suona is good at depicting joyful, noisy, and grand scenes," Asheng says. "Song of the Phoenix is also the name of the best-known classic piece featuring the suona, which uses the instrument to imitate the sounds of various birds, depicting dynamic nature and a joyous mood. It shows the instrument's versatility."