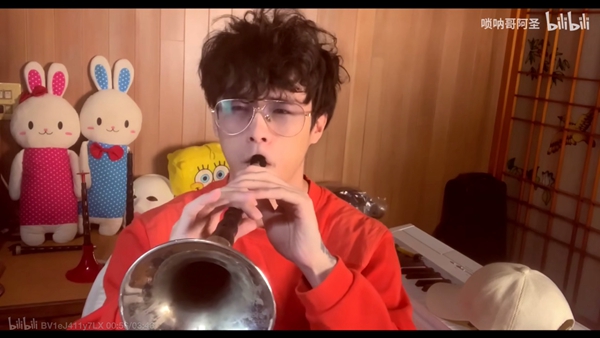 Asheng from Liaoning province, like Lin, is among a group of musicians who contributed to the growing popularity of the ancient instrument.[Photo provided to China Daily]
Traditional Chinese musical instrument, the suona, is enjoying a popular revival thanks to the power of social media, Chen Nan reports.
On Oct 21, a student of the Middle School Affiliated to Xi'an Conservatory of Music, Shaanxi province, shared a video on the internet, in which he performed the iconic piece, Summer, composed by Japanese musician Joe Hisaishi. The piece, which was featured in Japanese director Takeshi Kitano's 1999 movie, Kikujiro, was adapted by the Chinese student for suona, a Chinese traditional wind instrument with a double-reed mouthpiece.
The video became popular online and it inspired another player, Lin Shenli, a Shenzhen-based electrical engineer, to pick up the suona again, an instrument he had learned as a child, but which he had not played for some time.
"In the video, there were other students playing musical instruments, such as piano and the zhongruan (a plucked long-necked lute-like stringed instrument), but the sound of the suona is the most piercing and memorable," says Lin, 29. "After watching the video, I took out my suona and tried to perform the same piece with my own interpretation."
On Nov 4, Lin posted his first video playing the suona on social media platforms, such as video-sharing platform Bilibili and microblogging platform Sina Weibo. His rendition of Hisaishi's Summer received over 1 million views.
"I didn't expect the video to be so popular among the viewers. I did it just for fun," says Lin, who has made several more videos of himself playing his suona since then.
He has performed a variety of musical works, such as the hit song, Ordinary Road, written and performed by Chinese singer-songwriter Pu Shu, and the nostalgic soundtrack of 1992 TV drama, The Legend of White Snake.
Fans applauded at his suona technique and were surprised by the versatility of the musical instrument, commonly seen as one with a bright, full sound and high pitches that can produce mirthful or heartbreaking melodies at both weddings and funerals in rural northeastern China. Although now a traditional instrument, it was introduced into China from Persia or the Arab world in the third century.
Throughout the novel coronavirus pandemic, Lin has been uploading videos every week, hoping to offer entertainment for people who had to stay at home and might be bored. The pieces he selected were usually tracks found on the music charts released by major music streaming platforms, such as QQ Music and NetEase Cloud Music.
"The process of adapting those music works is easy for me because the suona has a wide tonal range," says Lin, who records his content at home after work.
Many viewers left comments for Lin saying that his videos are hilarious. "What makes me happier is that some viewers have gained a different perspective about the age-old musical instrument," Lin says.