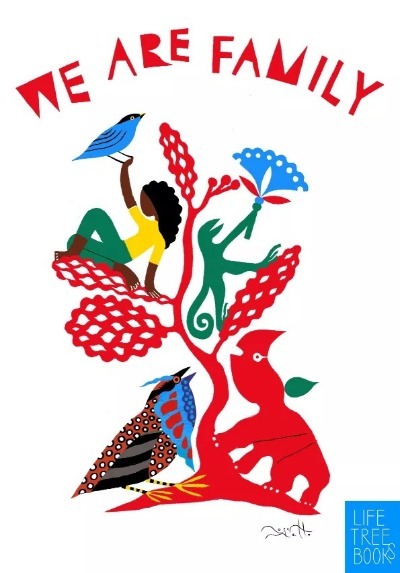 The poster and logo for the Life Tree Books' website designed by Brazilian illustrator Roger Mello.[Photo provided to China Daiy]
Joint efforts
As the first country to report the disease, Chinese publishers have swung into action, creating many coronavirus-themed children's books, which is impressive, Zhang says.
Inspired by these books, Zhang initiated the program on Feb 29, calling for Chinese publishers to donate their international copyrights of the published COVID-19 children's books and calling for translators to help translate the books for free.
Within a week, Zhang received copyright donations for around 60 books from more than 50 publishers, writers and illustrators. More than 400 translators applied, with about 200 from Shanghai International Studies University.
"I have been deeply touched by their devotion in the past month. We have 'fought' shoulder-by-shoulder in our way to combat the virus," Zhang says, adding that it is "a miracle" for the website to be launched with just a month's preparation.
For the translation work, Wu Gang, deputy dean of the Graduate Institute of Interpretation and Translation of Shanghai International Studies University, is the head of the program's translation team.
"All the students and teachers from the Graduate Institute of Interpretation have taken part in the project. Using their translation skills, they have made their own contribution in the global fight against the virus," Wu says.
Zhang Yanran, head of the Spanish translation group and a student at the Institute, says she has always believed that children's books have a magic power to give readers the courage to conquer difficulties.
Ma Ainong, well-known for her translation of the Harry Potter series, translated Virus, Virus, You Cannot Scare Me!, which is a pop-up book, enabling parents and children to learn about how viruses spread and what people can do to protect themselves effectively.
She tells Beijing Daily that books always provide children the best company, especially during difficult times, such as the pandemic.
"These books, in diverse ways, help children gain knowledge and power in the face of the crisis," Liu Lei, a senior publisher and leader of the program's design team, tells China Press Publication Radio Film and Television Journal.
The project will be promoted in IBBY's 81 national sections, Zhang says, adding that there will also be promotion activities at major book fairs, including Bologna Children's Book Fair, Frankfurt Book Fair and Beijing International Book Fair.