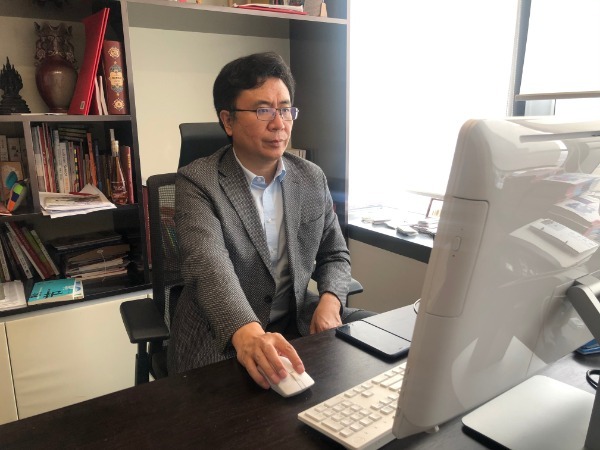 Zhang Mingzhou, president of the International Board on Books for Young People.[Photo provided to China Daiy]
With schools closed, no playing with friends allowed and parents working at home amid the COVID-19 pandemic, many youngsters around the world have a lot of questions about what's going on.
To help them better understand and cope with the situation, as well as learn about the people on the front line fighting against the virus, a website called Life Tree Books (www.lifetreebooks.org.cn) was launched on April 2-International Children's Book Day-offering free access to quality children's books.
Eleven children's books have so far been translated into more than 10 languages and are available on the website. They can help to explain COVID-19 and the long and complicated relationship between humans and viruses, and offer practical advice about how to prevent the disease from spreading.
Within its first week, the website was visited about 20,000 times by visitors from 53 countries and regions.
"We hope that the platform can answer children's questions about the disease and help them become lifetime readers and learners," says Zhang Mingzhou, the project's initiator and president of the International Board on Books for Young People.
Established in 1953 in Switzerland, IBBY is a nonprofit organization committed to bringing books and children together. With its secretariat in Basel, it is known for inaugurating the Hans Christian Andersen Awards, the world's highest recognition for children's literature creators, IBBY-Asahi Reading Promotion Award and IBBY-iRead Outstanding Reading Promoter Awards. IBBY is also known as the organizer of the International Children's Book Day and the International children's literature journal, Bookbird. Elected in September 2018, Zhang is the first Chinese person to chair the organization.
A recent UN report shows that as of mid-April, more than 1.5 billion youngsters have been affected by the school closures that have been enacted in around 188 countries.
"Facing the unprecedented challenge, we must take action to protect our children. We are family, and they are our future," Zhang says.
"Our global project can help children worldwide get through the coronavirus and enhance international communication and understanding," Zhang says.
When explaining the website's name, he says the website has been created because of the pandemic, but "like a seed, it will grow into a giant tree when the coronavirus is over". As for the website's poster and logo, he feels very grateful to the designer, Brazilian illustrator Roger Mello, laureate of the 2014 Hans Christian Andersen Award, for his excellent work, his passion and generosity.
Zhang says that, as time goes on, more children's books on COVID-19 are being sent to him for multiple language translation.
Iranian writer Ali-Asghar Seyyedabadi's Hannah, Our Hero is one example, teaching children how to take care of themselves during the pandemic.
Elena Perikleous, writer and president of IBBY Cyprus, has translated her latest children's book into English and emailed it to Zhang, hoping the book can be translated into multiple languages to reach more children.
"As the pandemic spreads across the world, an increasing number of publishers and writers are creating books full of color and life to help children understand and get through the pandemic," Zhang says.