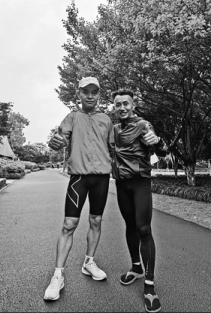 Fan and his friend pose after running 111.11 km on April 21.[Photo provided to China Daily]
His poor state of health made him decide to make some changes and he started to go to the gym.
"Today, no one can imagine that I had no interest in any exercise in the first 40 years of my life," Fan said. "But I always believe that people should do something we don't like to strengthen our wills."
Driven by a thirst for change and purpose, Fan kept exercising through self-study. Now, he has reached the weight of 61 kilograms and a body fat ratio of less than 10 percent. In October 2018, Fan joined a running event by accident which led to him keeping fit by running.
In the past one and a half years, he has grown into an excellent runner in the eyes of his peers.
"I once participated in an ultra-marathon event, which took me 12 hours to finish the whole race, and also joined some 100-km trail-running competitions," Fan said.