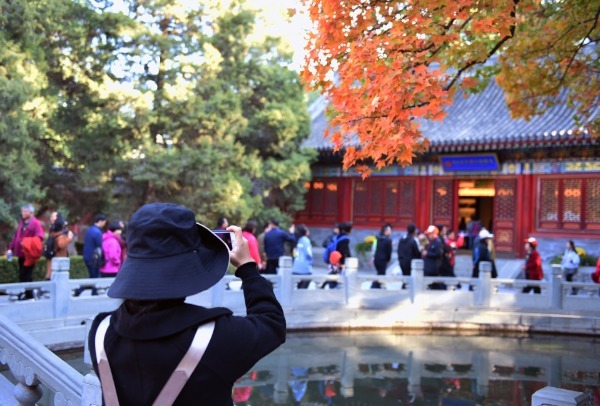 Fragrant Hills in suburban Beijing witnessed traffic jams last weekend after a large number of tourists swarmed into the forest park. Its management bureau later shut down indoor areas and closed five parking lots from Monday in an effort to limit the number of tourists.[Photo/Xinhua]
Carefully reopening
Some tourist attractions in low-risk regions of the novel coronavirus outbreak have gradually reopened to the public, Liu Kezhi, an official with the Ministry of Culture and Tourism, said Wednesday.
Liu further stressed that scenic spots often host large numbers of people, so the resumption should be guided by local governments after an overall assessment of conditions and necessity.
Liu said reopening tourist attractions in regions with a lower risk of infection should be approved by local governments and that such attractions in high-risk areas should remain closed for now.
On Tuesday night, the ministry issued a set of guidelines requiring real-name ticketing along with tourist contact and transportation information and encouraging full use of big data-powered technology to monitor tourist information in real time as scenic attractions have gradually started reopening.
The guidelines also noted that scenic spots that are set to reopen should strictly control the daily maximum capacity and offer online ticket booking services to avoid crowds. Tourists should have their temperatures taken and wear masks before entering as well.
The ministry also required scenic spots to monitor and report their employees' health conditions and beef up hygiene and epidemic control at major sites. Venues or activities that could draw large crowds should remain shut.
Statistics from the online travel agency Ctrip showed that, nationwide, more than 300 major scenic spots were open to the public this week, more than 10 times the previous week.
Fragrant Hills in suburban Beijing witnessed traffic jams last weekend after a large number of tourists swarmed into the forest park. Its management bureau later shut down indoor areas and closed five parking lots from Monday in an effort to limit the number of tourists.
Shanghai also rolled out a guideline for the municipality's A-grade tourist attractions to combat the novel coronavirus epidemic.
Tourist attractions will reopen gradually depending on the city's epidemic prevention and control situation. Temporary isolation spots should be set up and materials such as face masks, gloves, medical alcohol and disinfectant should be prepared in scenic areas, according to the guideline.
Scenic spots are encouraged to introduce an online prebooking system and limit the flow of tourists. The daily maximum capacity should be halved, and relevant information should be made public, the guideline said.