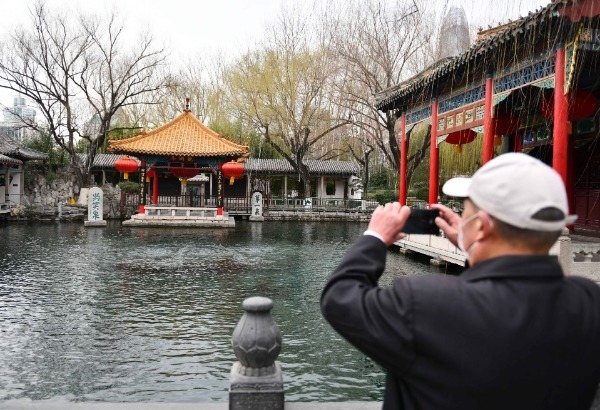 A visitor takes photos at Baotu spring, Jinan city, Shandong province, Feb 27, 2020. Some tourist attractions in low-risk regions of the novel coronavirus outbreak have gradually reopened to the public.[Photo/Xinhua]
After the novel coronavirus outbreak, many scenic spots in China have decided to waive entrance fees for the country's medical workers in a gesture of gratitude for their efforts and sacrifices at the front line of the epidemic fight.
According to statistics released by Ctrip, China's biggest online travel agency, as of Feb 20, over 1,000 tourist attractions around China have adopted the free-entry policy for the nation's medical workers. The move involves nearly 200 cities and covers a large variety of sightseeing attractions ranging from natural wonders and heritage sites to theme parks, museums and cruise liners.
But specific measures have varied in different regions. Hubei province, the center of the novel coronavirus outbreak, has granted all medical teams that aided the province free admission to its top tourist sites for five years.The provincial cultural and tourism department will issue a card to all outside medical team members that can provide unlimited free visits to the top-rated Class-A tourist sites in the province before Dec 31, 2024. Local medical staff can visit these sites for free using their medical credentials for two years, the department said.
In Southwest China's Sichuan province, a growing number of scenic areas including the Leshan Giant Buddha, a UNESCO World Heritage Site, announced they would open free of charge to the nation's doctors and nurses within a year after they resume business.
Guilin, a southern Chinese city known for its picturesque karst mountains and beautiful rivers, announced that it would waive the entrance fees to 80 tourist sites for medical workers this year, according to the city's culture, radio and television and tourism bureau.
In Nanjing, capital of East China's Jiangsu province, the free-entry policy will cover 23 scenic areas, four museums and the ancient city wall. Medical workers can take sightseeing buses free of charge in the city.