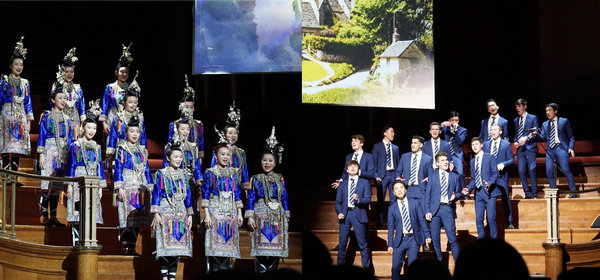 Artists from the Guizhou Song and Dance Theater perform the Grand Song of the Dong ethnic group together with the Oxford University Acapella Choir. [Photo provided to Chinaculture.org]
More than 10 shows were staged by an art troupe from Guizhou Song and Dance Theater in five British cities – London, Belfast, Edinburgh, Manchester, and Preston — from Jan 16 to 29, adding local color to the 2020 Chinese New Year celebrations in the UK.
The rich, iridescent cultural fabric woven by the 49 ethnic groups inhabiting Southwest China's Guizhou province was showcased through folk songs and dance, entertaining tens of thousands of local audience members, visitors from around the world, as well as local Chinese communities.