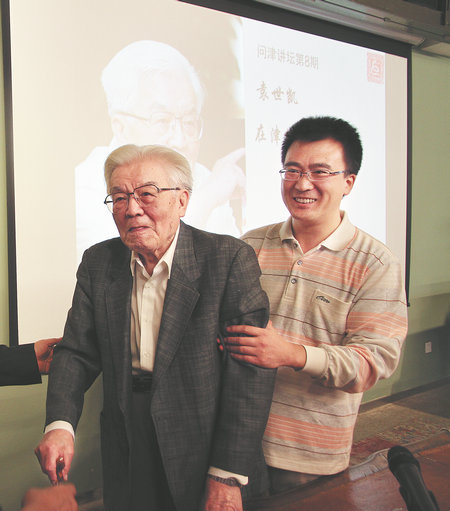 Wang Zhenliang and renowned Tianjin history scholar Lai Xinxia (1923-2014)(left). [Photo provided to China Daily]
The earliest shuyuan, or academy of classic learning, could date back to the Tang Dynasty (618-907) in China.
For thousands of years, the academies have been key venues for ancient Chinese scholars to share their insights, brainstorm ideas and nurture spirituality.
Nowadays most of the ancient academies disappeared and some of the few well preserved ones, including the noted Yuelu Academy-built in 976-in Changsha, Central China's Hunan province, have been transformed into tourist attractions.
In Tianjin, the earliest ancient academy for classic learning, Wenjin Academy-built in 1751, but destroyed by the invaders of the eight alliances forces from foreign countries in 1900-has been silently revitalized and transformed.
According to a recent public ranking carried out over the past few years by the former Tianjin Press and Publication Bureau (which has now merged with the local publicity department), it has become the most popular free book bar in the city.
During its revitalization, it has inherited the tradition of boosting both Chinese and Western cultures, as Tianjin was once the earliest port opened to the West. The city has taken the lead in introducing Western cultures and educational approaches.
Foreign officials, too, have shown great interest in the revitalized academy.
French and Italian culture counselors frequently drop in to the academy and the institute of modern language research, Italian Friends, has published books with the collaboration of the academy.
Interestingly, Italian friends wrote the book in Chinese with the title From Concession to Italian Style Town with their "humble" Chinese calligraphy.
Italian scholars have also donated a number of books to the academy, while a Japanese expert shared findings from his research on The Analects of Confucius at a monthly forum at the center.
Wang Zhenliang, the founder of the revitalized Wenjin Academy, previously worked as a senior editor in the Supplements Department of Jinwanbao, or Today's Evening News.
The academy has a culture journal, Wenjin, which is published to explore the profound history of the city.
Wang, 44, who is now a professor of journalism at the Tianjin Normal University, said that the re-founding of the academy in 2013 was aimed at inheriting the ancient academy culture and to boost more international communication.
"In the beginning, my friends said the academy wouldn't survive for three years, but now it is already in its eighth year," he said.
He has no ambition to reap any profit from the academy, although it has been legally registered with local business and industrial authorities.
"Right now, it is quite like an NGO with loose organization. I have no bold plan for its future operation," he said.
He is only actively organizing seminars, inviting friends to lecture and publishing some journals and books.