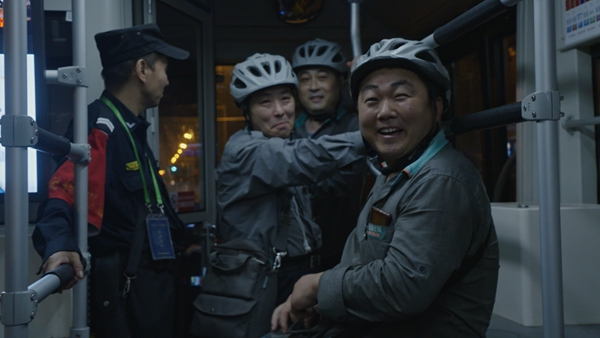 The new season of the documentary series 72 Hours China continues its exploration of the country's urban life. Scenes include a 33-year-old teahouse (above right and top) in Chongqing and passengers on a night bus in Beijing.[Photo provided to China Daily]
Old culture mixes with modernity to provide a fascinating insight, Fang Aiqing reports.
The second season of a documentary revealing how Chinese people cope with modern life and its challenges in their own words has been released on Tencent's video platform. The first season of the Sino-Japanese production, 72 Hours China, got 250 million clicks on the platform in 2018.
The 13 episodes for this season plunge headfirst into social topics-intergenerational relations for example. It's a topic the audience, especially the younger generation, is fascinated by and wants to discuss, said chief director Zhang Xuejiao at a meeting with fans in Beijing on Dec 23.
Some episodes highlight local public spaces that represent the hidden but culturally vital aspect of modern Chinese cities, like a fabric shop in Beijing's hutong (alleyway) area and a bathhouse in the northeastern city of Shenyang, Liaoning province.
Emerging, offbeat venues, such as a paid study room in Hefei, Anhui province, and a space capsule hostel in Hangzhou, Zhejiang province, are introduced to reflect the change in youth culture.
What people do at these places also indicates the stress that modern city-dwellers are burdened by and their state of mind.
In the first episode, a trio of old friends sits around a classic square table, each with a cup of tea, chatting wildly.
"He's done grand businesses like installing elevators to the Himalayas and building a cover for the Pacific. His greatest project ever was polishing the moon," one man says as he points to another who bursts out laughing.
The conversation happened at southwestern Chongqing's Jiaotong Teahouse, a traditional establishment that has been running for more than 30 years. The retired workers have been regular visitors during this time and come here every day to chat and joke.
Amid the city's modernization, more than 2,000 traditional teahouses have vanished over the last century. But Jiaotong Teahouse survives and thrives. It has been identified as a "specimen" of the original local lifestyle and has become an online hit.