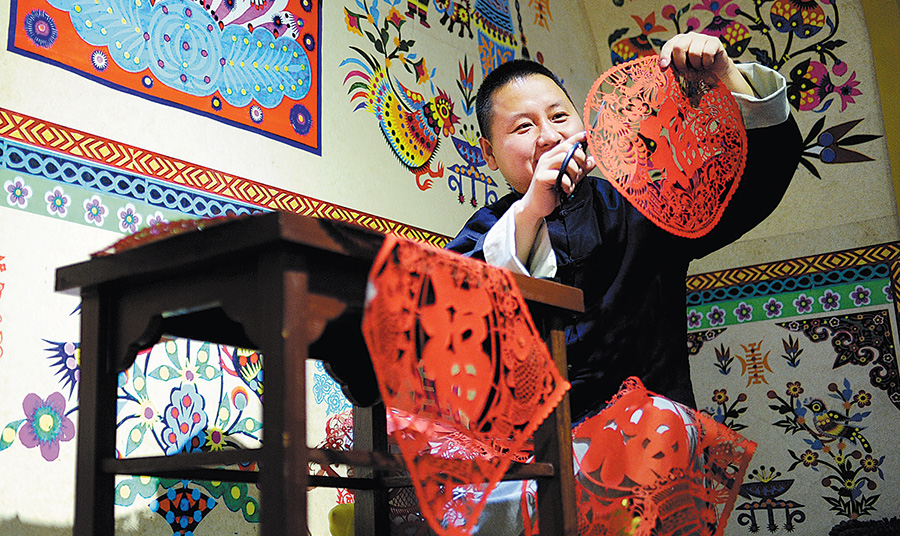 Shanxi's paper-cutting is among the world's intangible cultural heritage. [Photo by Ma Liming/For China Daily]
O'Sullivan visited families in the village, ate dumplings and gave out lucky red envelopes. She also learned some essential Spring Festival customs.
"I learned that getting a haircut would be considered as unlucky during the first month of Lunar New Year," she said.
Libyan Waled Yahya Mussa, who has studied in China for three years and is now a PhD student in mechanical engineering at TYUT, said the activity helped him connect more with Shanxi and China.
"I learned to make dumplings and cook them myself. During my stay here, I can eat fast with chopsticks and use vinegar with every meal," he said."The elderly are respected here. Shanxi people are very friendly and have helped me a lot."
Another city in the province, Pingyao, is encouraging tourists from home and abroad to take part in its Spring Festival celebrations.
David, a student originally from the US, said that Spring Festival decorations are rarely found in big cities, but in Pingyao cultural elements of the festival are everywhere.
"I used to celebrate Spring Festival in other parts of China and I found people use the holiday to spend time with relatives and friends, or to travel. But in Pingyao, there are many vibrant activities to choose from, including lion dancing, yangko dancing and guessing riddles."
Taylor, who has traveled with David around Shanxi, said: "Almost all places in Shanxi accept mobile payment services. And Shanxi has protected the environment well by controlling pollution over the years."
Li Yali and Wang Chaojun contributed to this story.
Contact the writer at yinruowei@chinadaily.com.cn