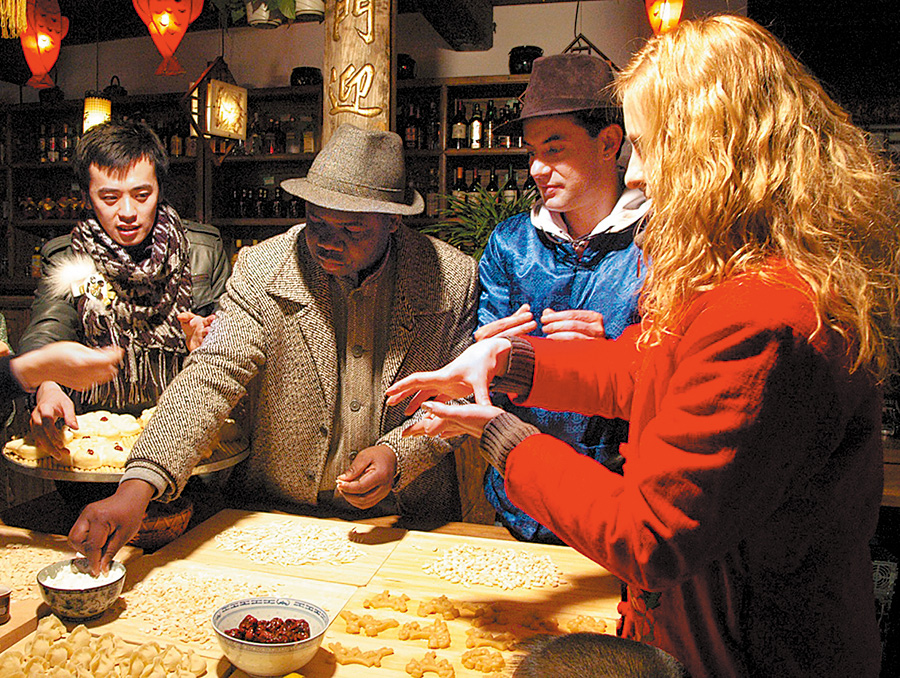 Foreigners learn to make jiaozi dumplings, an essential part of a typical Chinese New Year feast, in Shanxi province. [Photo by Liang Shengren/For China Daily]
Activities organized to spread joy, enlightenment of China's biggest annual celebration, Yin Ruowei reports.
International students studying in North China's Shanxi province are being given a taste of the Spring Festival atmosphere this year, taking part in activities specially aimed at involving them in what the celebration is all about.
In the Shanxi city of Datong, a cultural activity inviting international students to get into the holiday spirit was held recently, attracting some 200 students from more than 50 countries to take part.
"This year is the third time we've held the event. We hope that students from overseas can be a part of the festive atmosphere in Shanxi, a province that is undergoing transformation and development," said Li Wenbin, a teacher with the school of international education and exchange at Taiyuan University of Technology.
On Lunar New Year's Eve, which fell on Jan 24, a group of international students went to Yangjiayao village in the southern suburbs of Datong to take part in a variety of festivities including a typical reunion dinner, a live gala, writing couplets and paper-cutting.
Student Devin Grace O'Sullivan from the United States thoroughly enjoyed the new experiences.
"It was a very interesting experience for me to celebrate Lunar New Year's Eve with local families. It's the most important day for family reunion in China," she said.