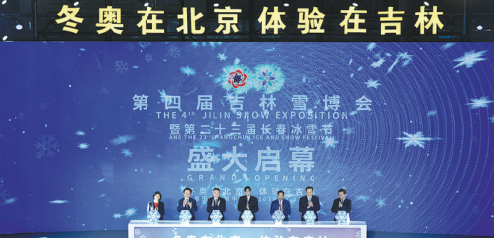 The 4th Jilin Snow Exposition and the 23rd Changcun Ice and Snow Festival is held on Dec 13. [Photo provided to China Daily]
Northeast China's Jilin province, which enjoys a great abundance in ice and snow every winter, has vowed to use the forthcoming 2022 Winter Olympics to promote itself as a world-class ice and snow tourism destination, according to the region's top official.
"The 2022 Winter Olympics will be held in Beijing, and Jilin is set to become a hub for people to experience the charm of winter sports," said Bayin Chaolu, Party secretary of Jilin province, during the opening ceremony of the fourth Jilin Snow Exposition and the 23rd Changchun Ice and Snow Festival on Dec 13. "The 2022 Winter Olympics will create tremendous business opportunities for Jilin."
Bayin Chaolu said Jilin will deepen cooperation with its counterparts in relevant industries and work in full swing to support the upcoming Winter Olympics.
"Thanks to the Olympics, we believe Jilin's ice and snow industry will achieve fast growth, and Jilin will be a world class ice and snow tourism destination," Baiyin Chaolu said.
Jilin province, known for having some of the country's best powdery snow, the type favored by skiers and snowboarders, has been promoting the development of ice and snow-centered tourism, sports and culture in recent years, as encouraged by the central government. And it has enjoyed a strong momentum of development, according to Bayin Chaolu.
During the 2018-19 snow season, which ran from Nov 1, 2018 to March 31, 2019, Jilin province recorded approximately 84.32 million visits to its tourist attractions, and reported some 169.81 billion yuan ($24.27 billion) of tourism revenue.
The region has many of the best and the largest ski resorts in China including the famous Lake Songhua Resort, Beidahu Ski Resort and Changbai Mountain Wanda International Resort. Songhua has ranked among China's top ski resorts for the past two years since 2017 in terms of visits, according to official statistics. In 2018, the resort welcomed more than 560,000 skiers. Beidahu Ski Resort boasts one of the largest professional ski courses in Asia. All the resorts opened for the 2019-20 snow season in November.
Jilin province has carried out a series of measures to support the upgrading of its ice and snow industry. And it is developing an ice and snow industrial chain to cover expos, sports, culture, trade and manufacturing. The province has also unveiled policies to attract more talented industry professionals, as well as promote smart development, according to local authorities.
Apart from building advanced ski resorts and facilities, the province has implemented a three-year action plan to support the development of the ice and snow equipment manufacturing industry. The region, a traditional manufacturing hubs in China, will partner with national and global leading businesses to develop heavy equipment such as snowplows, snow-making machines, cable cars and ice resurfacing machines. Local companies are also being encouraged to pay greater attention to research and development centered on lightweight snowboards, helmets and ice skates.
The fourth Jilin Snow Exposition, held from Dec 13 to 17, covered 100,000 square meters and attracted 1,256 brands from around the world. During the event, the official mascot of the 2022 Winter Olympics Bing Dwen Dwen-a panda in ice armor, and the mascot of the 2022 Paralympics Shuey Rhon Rhon-a red lantern, were available for purchase, ratcheting up anticipation for the 2022 Winter Games. "I believe Jilin will become one of the largest ski destinations in China after the 2022 Winter Olympics and will lead the country's ski industry development," said Wu Bin, vice-president of the Beijing Ski Association.