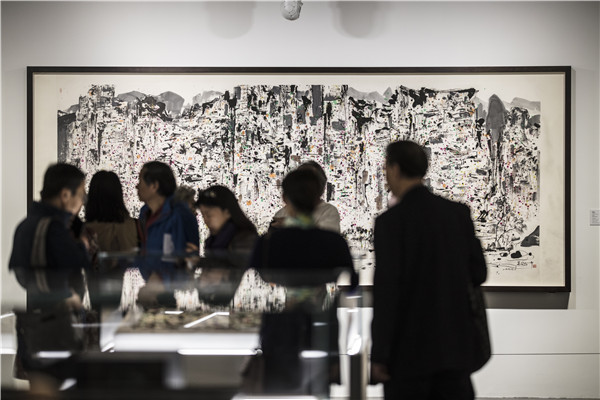 A landscape by late artist Wu Guanzhong goes on show at Art Nurtures Life, an exhibition that runs through May 3 at Tsinghua University Art Museum. [Photo provided to China Daily]
Wu Guanzhong's grand survey exhibition at Tsinghua Art Museum
Late Chinese painter Wu Guanzhong (1919-2010) is widely recognized as the founder of modern Chinese painting for masterly marrying the techniques of Western art with the aesthetics and philosophy of Chinese culture.
To mark the centennial of Wu's birth, a grand exhibition is being held at Tsinghua University where the artist had taught for years.
Themed Art Nurtures Life, the show presents 111 pieces of Wu's ouvre to chronicle his decades of dedication to the national art education.
Hailed as one of the most forward-looking artists in China, Wu first attended the China Academy of Art in the 1930s in Hangzhou, East China's Zhejiang province, and then lived and studied in France, where he was exposed to different art movements in Europe.
The exhibition ends on May 3, 2020.
Click here to learn more.
If you go:
9:00-17:00, Tuesday to Sunday. NO. 1, TsinghuaUniversity Campus, Haidian district, Beijing. 010-6278-1012 北京市海淀区清华园1号 清华大学校内