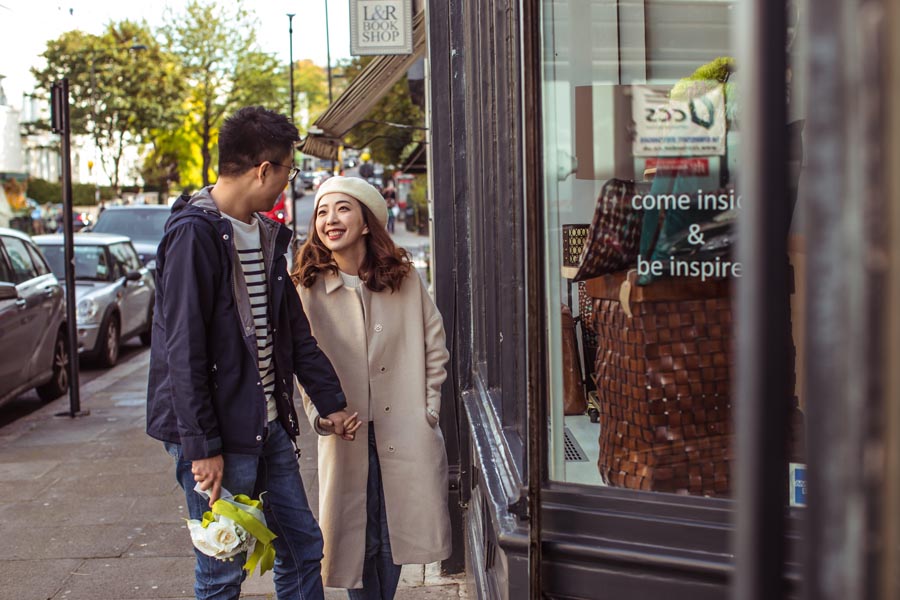 Chinese tourist Du Yumeng and her husband paid a local Chinese photographer to take photos for them when they traveled to London in 2017. [Photo provided to China Daily]
"Instead of shooting on location, heavily made-up couples line up in a studio to have their photos taken in front of different backdrops, adopting the exact same poses as each other according to the instructions from the photographer."
In 2014, photographer Wang Zhen founded the Zaiye Studio in Beidaihe in Qinhuangdao city, Hebei province-a popular getaway among Beijingers. Just a year later, Beidaihe became an online hit thanks to two new seaside landmarks.
Netizens dubbed Sanlian Public Library near Beidaihe's beach resort "the loneliest library in the world". The stark, white form of the nearby Aranya Church, China's first seafront chapel, looks like a ship from a distance due to the 30-meter-long path that leads up to its staircase, which resembles a pier, and its steeply pitched roof.
"Newcomers share their beautiful photos on social media and, in turn, attract more tourists to come and enjoy the 'lonely' style," Wang says.
Wang's studio attracts couples and families who visit Beidaihe on vacation. Wang chats with them to make them feel relaxed and clicks the shutter as they are interacting with one another.
"To take candid photos is much more challenging for a photographer than shooting staged images. When the subjects look at their photos years later, they recall the very moment when the photo was taken," he says.